Introduction
The objective of this project is to develop a system that will be used to analyze the lithium concentration in whole blood samples. Lithium is used as a drug in the treatment of manic-depressive patients, however the narrow therapeutic index (i.e. the range between minimum effective concentration and the minimum toxic concentration) necessitates close monitoring of the concentration in the patient, especially during the initial stages of the treatment.
A chip-based approach is chosen for this application for two reasons: first of all the analysis time can be shorter when the dimensions are made smaller (less than a minute) and secondly a fully integrated and therefore more user-friendly device can be made, with the size of a simple shoebox. A drop of blood is placed on the disposable chip which then is inserted into a small control unit. This unit houses four high voltage power supplies and conductivity measurement electronics.
The entire analysis can be divided into three steps:
1.Sample filtration and introduction of a small amount into the separation channel
2.2. Electrophoretic separation of the ionic blood components
3.3. Quantification of lithium using conductivity detection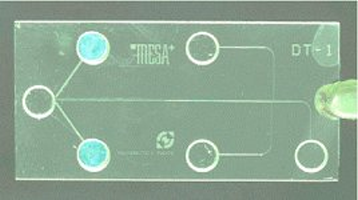 Typical glass capillary electrophoresis chip (3 x 1.5 cm). The fluidic channels and the round liquid compartments can clearly be seen. The blue metal pads are used to connect with the external electronics.
For the actual separation capillary zone electrophoresis (CZE) is used. A small amount of sample is introduced at one end of an electrolyte filled channel from a compartment containing the sample. When an electric field is applied over this channel ionic species from the sample will migrate trough it. The separation is based on the fact that small or multiply charged ions move faster than large or singly charged ions.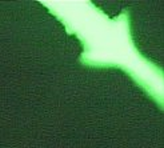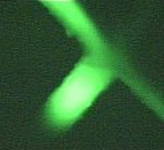 Electrokinetic sample manipulation in the chip. A sample plug is formed for the separation of the cations in an electric field. The migration differences of the individual ions will be the basis for the detection in a low conductivity buffer.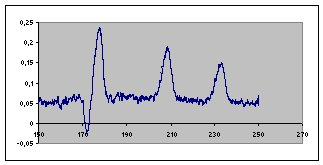 Conductivity detection with contact Pt-electrodes at 5 kHz. 10 mM K+, Na+, Li+ at 500V. HF etched channel 8 cm, 20 mM. Buffer His/MES pH 6.2 Potassium after 170 seconds.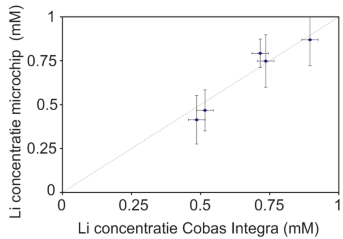 Lithium concentration measured by microchip capillary electrophoresis compared to lithium concentration as measured in the hospital (Medisch Spectrum Twente, Enschede, the Netherlands) at the Cabas Integra.
Dr.ing. Elwin Vrouwe defended his thesis in April 2005 by proving the possibility to determine the lithium concentration by Microchip Capillary Electrophoresis and Conductivity Detection with just one single droplet of whole blood. His method was comprehensive to conduct and only possible under laboratory conditions. Now Ir. Steven Staal will develop a demonstrator model and with that conduct more tests. It is the goal to show that it is also possible to measure lithium rapidly in just one device, outside the laboratory and with the desired accuracy in short time.
References
[1] R.J.Reay and G.T.A. Kovacs, "Microfabricated EC detector for CE", Proceedings of the Solid State S&A Workshop, Hilton Head, South Carolina, (1994), 61-64.

[2] Quantitation of Li+ in serum by capillary zone electrophoresis with an on-column conductivity detector Huang, X., Gordon, M. J., and Zare, R. N; J. Chromatogr. 425, 385-390. 1988

[3] Monitoring of lihium levels in human serum after therapy with lithium preparations by capillary isotachophoresis.Valásková, I., Balázová, J., and Havránek, E.; J. Chromatogr. B 674,310-313. 1995

[4] E.X. Vrouwe, R Luttge, A. van den Berg, Direct measurement of lithium in whole blood using microchip capillary electrophoresis with integrated conductivity detection, Electrophoresis 2004, 25, 1660-1667
LiCETAS is the abbreviation of Lithium analysis using Capillary Electrophoresis in a Total Analysis System.
Interested?
If you are interested and for instance would like to do your graduation work or practical term, please contact via the email address below.
Contact Information