Friday 17 December 2021
The University of Twente (UT) and research organisation TNO are reinforcing their collaboration. Today a Memorandum of Understanding was signed. Joint programmes will be developed on three themes: robotics, cybersecurity, and intelligent diagnostics. This is an important step for the UT and the Twente region, partly because TNO has expressed its intention to further reinforce the ties with the region.
The University of Twente is currently working hard on robotics. A new Robotics Centre has opened on campus and the new Master's programme in robotics will most likely start in September 2022. The UT and TNO will expand their collaboration in this area, e.g. on exoskeletons and telerobotics (remotely controlled robots). TNO and UT previously established the open innovation centre I-Botics together, of which UT researcher Douwe Dresscher is the lead. Within I-Botics, collaboration is expressly sought with companies and governments.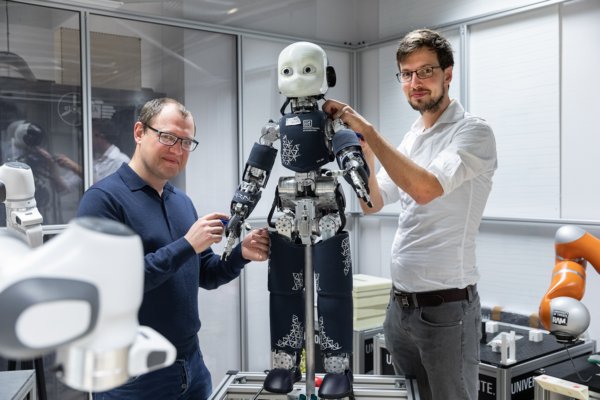 Douwe Dresscher
There is also a lot happening in Twente regarding cybersecurity and TNO is part of that. UT recently established the Twente University Centre for Cybersecurity Research (TUCCR). Professionals, entrepreneurs, researchers, and students join forces in this public-private centre for cybersecurity research. Since TNO would like to contribute to the content of the programme and the ecosystem, it has joined TUCCR as a "Gold member", just like Thales, Cisco, SIDN, and the National Cyber Security Centre.
The third important pillar is "intelligent diagnostics" for the HighTech industry. Both parties would like to set up a joint innovation lab regarding this theme. This initiative is in line with the strategic programming of smart industry at UT and in particular the field of asset management. The lab will be set up to perform scientific research that will be fuelled and funded by relevant questions from industrial partners. This mainly concerns partners who are already collaborating with TNO-ESI.
Milestone
Prof. Maarten van Steen, scientific director of the Digital Society Institute (DSI) at UT, is the content coordinator of the collaboration. He is pleased with this long-term and strategic approach. "We have been working with TNO for many years, but this mainly happened at the level of a department or an individual project. The fact that we are now going to develop multi-year programmes based on these three lines of research is a major milestone. This is also a recognition of TNO on the three themes, indicating that we are at the forefront in this respect. TNO already has this kind of strategic collaboration with other institutions in the Netherlands, and UT is now one of them. We have a lot to offer each other. In the future, TNO wants to have a strong presence within the Twente ecosystem in order to realise more collaboration with companies in the region."
Not just papers, but products
Van Steen believes that this collaboration will put UT in an even better position to set up research programmes together with industry and government. "TNO operates at the intersection of industry, government and science. They focus on systems thinking, integrating technologies, and applying a degree of standardisation. What am I hoping for? Scientific papers should not be the only result of this; products should be as well. Something that will benefit the community and industry. TNO plays a crucial role in this. We complement each other perfectly."
Important for the entire region
Chief Development Officer Prof. Geert Dewulf will sign the agreement on behalf of the University of Twente. Dewulf explains why this step is important. "We do not yet have a so-called TO2 institute in Twente, such as NLR, Marin, Deltares, and also TNO. The presence of TNO is important for the ecosystem. We are building joint R&D roadmaps and research proposals. This offers great opportunities for our academics. The collaboration also provides opportunities for the regional business community. Companies like Demcon and Thales are already doing a lot of business with TNO, so this is also a great step for them."
Most entrepreneurial university
Chief Scientific Officer Peter Werkhoven will sign the collaboration on behalf of TNO. Werkhoven: "TNO realises its goal of 'Innovation for life' using multidisciplinary applied public-private research. In doing so, we expressly seek strategic partnerships with universities in regional ecosystems. I am really pleased with this partnership with UT, one of the most entrepreneurial universities in the Netherlands, based on a shared ambition to innovate industry and society with 'embedded AI'. I also expect an intensification of staff unions and talent exchange in this partnership."