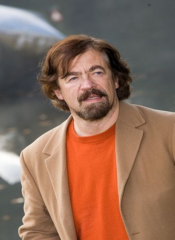 Jan A.G.M. van Dijk is professor of communication science at the University of Twente, the Netherlands, Department of Communication. His chair is called The Sociology of the Information Society. He is investigating the social aspects of information and communication technology since 1985.
He is Chair of the Center for eGovernment Studies (www.cfes.nl).

His research specializes in social, cultural and political/policy issues. Recent books in English are:
The Network Society (1999, 2006, 2012)
Digital Democracy (2000)
The Deepening divide, Inequality in the Information Society (2005)
Information and Communication Technology in Organizations (with H. Bouwman et al.) (2005)
Digital Skills, Unlocking the Information Society (2014) with Alexander van Deursen
His courses are about a general introduction to communication, theories and models of communication science and social or policy aspects of the new media or ICTs. He supervises an International Master track in Communication Studies (MSc) called Media and Communication.

Van Dijk is an advisory of the European Commission, a number of Dutch ministeries, city departments and political parties on issues related to ICT.