Thursday 30 November 2023 11:00 - 13:00
Overview
Building on the success of our inaugural workshop "Exploring Circular Economy Challenges for a Sustainable Future", the Circular Economy Platform Twente is proud to announce its second workshop, "Enacting Solutions for Circular Economy: A Collaborative Workshop". This event aims to transition from identifying challenges to crafting actionable solutions within the Circular Economy domain.
What? Enacting Solutions for Circular Economy: a collaborative workshop
When? November 30th, 11:00-13:00
Where? HT1100
Registration? Needed, fill out the form below
Objective
This workshop will serve as a collaborative forum for developing innovative solutions to the challenges identified in our previous session. Participants will engage in interactive roundtables, each focused on a specific aspect of the Circular Economy, fostering a holistic approach to sustainable practices.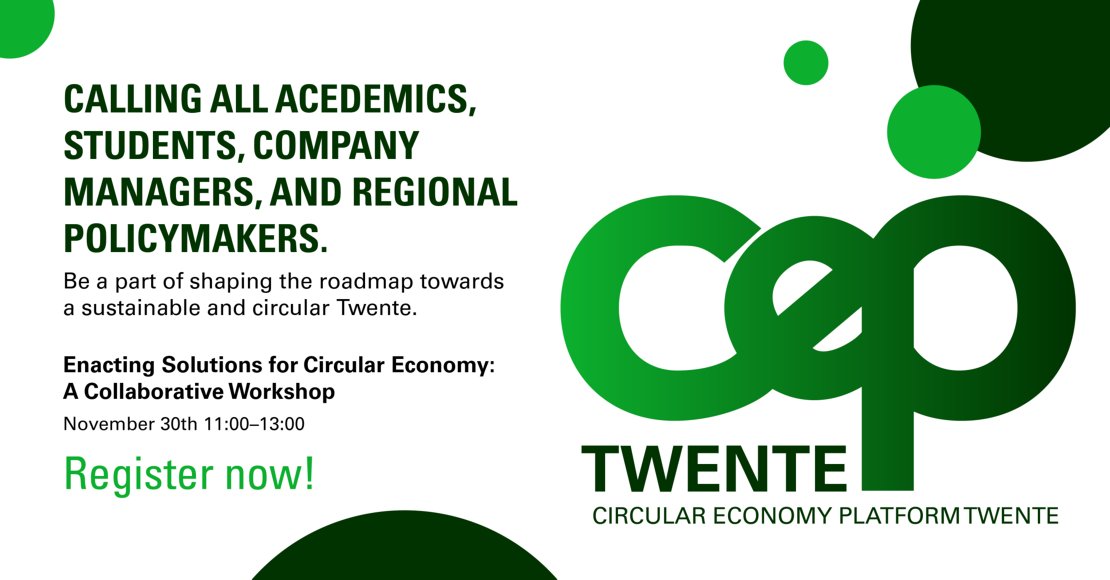 Roundtable Themes
Circular Energy Systems
Circular Product and Supply Chain Design
Behavioural and Social Aspects
Gamification and Digital Twins
Circular Business and Financial Models
Circular University of Twente Campus
Participants
We are extending invitations to academicians and students from the University of Twente, company managers, academics from other applied science universities, and regional policymakers. This diverse gathering will ensure a rich exchange of perspectives and expertise.
Circular economy platform TWente
The interdisciplinary team of 16 academics and students from the faculties of BMS, ET and ITC and the GreenHub Twente, led by Devrim Yazan, has become one of the winners of the UT Climate Center call for proposals with the project called: Circular Economy Platform Twente (CEP TWENTE). The core of the project is formed by the Sustainable Circular Economy team of the IEBIS/HBE department.