Welcome to the Story Lab!
Our main aims are to foster understanding of stories in a changing world, to innovate storyline analyses, and to design narrative interventions that promote community, well-being, and mental health. We work together across a broad range of disciplines from arts and humanities to behavioral and social sciences to computer sciences. We have a strong collaboration with the professional field, like mental health institutes, hospitals, care organizations, social work, and education.
Contact Us        Scientific Impact             Societal Impact
Imagining resilience in a quickly changing world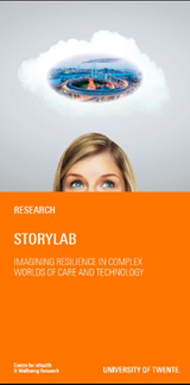 Storytelling plays an important role in the everyday life of individuals, organizations, and society at large. Stories can contribute to community, well-being, and mental health. However, the exchange of stories is in flux. In a digital age, the increasing use of interactive technologies like smartphones, social media, and social robots change the means to express stories, but also the power relations in which they are expressed.
We contribute to better understanding how people use stories to imagine meaningful lives in this quickly changing and complex world. We study for example how people construct identities in complex hospital care systems or in the quickly changing circumstances in the COVID-19 pandemic.
Mining for meaning: Technology for narrative analysis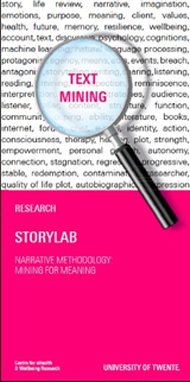 The multimodal expression of stories plays a role in many settings, for example in recalling autobiographical memories, imagining future lives, exchanging messages on social media, or building relations in e-mental health interventions. "Story line analysis" assumes that the meanings of stories depend on the verbal and non-verbal expression of story plots in specific interactional settings in a broader cultural context.
We use artificial intelligence technologies, like natural language processing, text mining, and affective computing to enrich the quantitative analyses of stories. Our particular interest is to advance the interplay between human interpretation and computerized analyses to achieve valid results in studying the multifaceted and multilayered character of stories.
Narrative interventions to promote health and well-being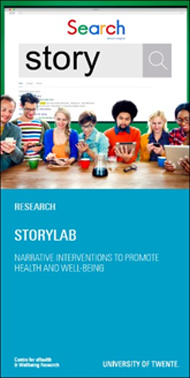 Story Lab has extensive expertise in the participatory design and evaluation of narrative interventions that promote health and well-being. These interventions are based on personal stories to construct meaning in life. They support personalized care that contributes to positive health as more than the absence of disease.
We design narrative technologies that are safe, persuasive and easy to use. We tailor these to the needs of specific groups, like frail older persons, persons with chronic psychiatric disorders, personality disorders, or both intellectual disability and psychiatric complaints. We use both quantitative and qualitative methods for formative and summative evaluations. To facilitate implementation, we develop courses and trainings, also supported by e-learning.