7. PARTNR – Personalized cancer treatment and care platform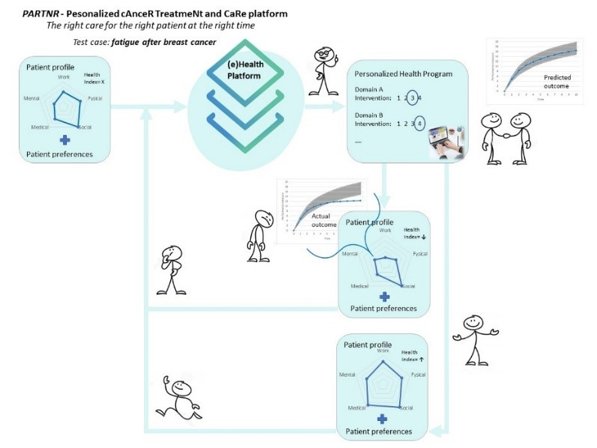 Keywords:
eHealth, cancer-related fatigue, patient profiles, self-learning algorithms
Description:
The PARTNR project researches and develops an intelligent self-learning system for patients with breast cancer that combines medical data about functioning in daily life and that provides personalized intervention recommendations for cancer-related fatigue. For the development process, a user-centered iterative approach will be used, resulting in continuous end user testing, verification and validation. First, decision support will be done based on preferences and decision rules filtered from literature and expert opinion. During the course of the project, the system will be adapted and learn using gathered real-life data. Aim of the project is a working platform that provides personalized treatment recommendations. The multidisciplinary team ensures the availability of medical, psychological, technological and implementation expertise.
Partners:
NWO, KWF, Health Holland, ZGT, IKNL, RRD, Helen Dowling Institute, Evidencio, Ivido, Tilburg University, UMCG
Duration:
Start April 2020 - 2024
Contact person(s) in the SMHA lab: