Miriam Luizink has experienced the UT from every possible angle, as a student, as an employee and now as chair of the University Fund. Miriam first arrived on campus in 1992 as a student of Applied Physics, and little did she know how often she would return.
She moved into a student accommodation on Brinkstraat, where she lived with four fellow students. Student life definitely agreed with her, and she became a member of the Arago study association in her first academic year. A year later, she would also join and learn to sail at sailing association Euros. One thing is clear, which is that Miriam does not shy away from adventure! She loved participating in sailing weeks on the Ebenhaëzer, as well as the hitch-hiking competitions to Paris and Copenhagen organised by the study association. Although they may not always have resulted in great success... 'I never actually arrived in Copenhagen. In fact, we didn't even make it past Gronau!', Miriam says. Still, this failed attempt earned her some great memories, of which there were many. 'Come to think of it, I had a lot of fun throughout my time as a student, with everything that came with it. Sailing, hitting the town together, living on my own... And of course the freedom and independence.'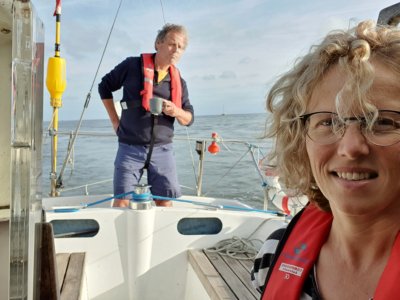 Towards the end of her studies, Miriam moved to Arnhem, where she did a graduation work placement at AkzoNobel. She graduated in 1998 and got a job at KPN Research. It was a fun time, but she also wanted to get some experience abroad. So she left for Central America in 1999, where she lived and worked for a year. But Twente called for her, and Miriam moved back to Enschede in 2001. After some time working as a project manager at development agency Oost NL, she returned to the UT, where everything had started. She remained employed there for 10 years, first as a director at the MESA+ Institute and later as the first director of the department Strategic Business Development. Later, after she started working at the Roessingh Research and Development research centre, which is closely affiliated with the Roessingh rehabilitation centre, she maintained her close ties with the UT, including through extensive collaboration. For the past six months, Miriam has been self-employed, working on assignments from such parties as Saxion, the UT and the Police Academy of the Netherlands: 'Right now, I'm working on an interesting project for the construction of a national centre for security and digitalisation.' She is also working on a quantum technology project and is a supervisor at organisations including Phion – the Orchestra of Gelderland and Overijssel – and Zeton, an international company in Enschede that designs and builds pilot plants. 'I enjoy having this much variation in my work', says Miriam.
When asked whether she is still in touch with other alumni, Miriam answers with a resounding 'Yes'. She is married to an alumnus and still goes on an annual camping trip with a group of friends she met on an Arago study trip committee. In 1995, they organised the 'Cosmos' study trip to the Czech Republic, Austria and Hungary, and they recently celebrated their 25th anniversary. In honour of that event, one of the committee members, a passionate brewer, had brewed a special Cosmos anniversary beer, including a label featuring old photos. 'It always feels just like we're students again. We always end up talking about old stories, since we've known each other for so long!' Miriam still feels closely involved in the UT and student life. It is therefore good news that she has been the official chair of the University Fund since November 2021. 'It is a lot of fun to be involved in this way, to contribute to the UT community and to spend more time with other alumni.'