Ivo still remembers it well, the orientation event in September 2002: 'I was walking towards the Bastille from Checkpoint Charlie and suddenly heard music playing in the distance. I saw one of those old school black and white chequered breakdance mats and immediately thought: that's so cool!' He immediately approached the dancing students. And so, on his very first day at UT, he found something that might even be more important than a pleasant academic experience: a valuable community of friends and future colleagues.
After visiting a number of open days, including one in Groningen, Ivo eventually decided to study Applied Communication Science at the University of Twente. The applied nature of the degree programme really appealed to him, so he felt disappointed when that aspect turned out to be less important than he had expected and he found himself studying more or less 'regular' Communication Science. Despite that initial disappointment, he never regretted his choice: The campus proved to be a pleasant environment and he felt at home in his student room on the Witbreuksweg, which he moved into during his first year.
The neighbourhood barbecue that would later grow to become the Green Vibrations festival started in his 'backyard'. A perfect setting, in other words, for someone who loves music as much as Ivo. 'I look back on my student days with a lot of fondness: I think I'll always remember that time most for the sense of freedom. In my case, that meant getting to spend lots of time on music and breakdancing. That was really important for me at the time.' He put out nine releases with his rap group Twee Ons and performed at over 100 events, including the Batavierenfeest and anniversary of the Communiqué study association. He also founded a student breakdance crew known as Break-Even with a group of friends; they were the first of their kind in the Netherlands and even made it to the stage at Lowlands festival! 'It was great to meet other people who were interested in the same thing and work together. We didn't have a scene like that in Dedemsvaart, where I'm from.'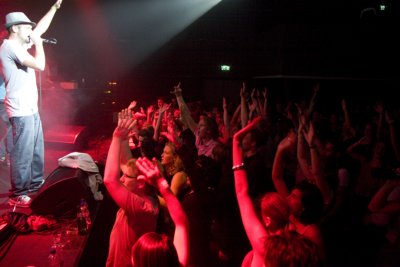 His active student life proved to be a great springboard for his career. After graduating, Ivo continued to build the business he had started during his student days, offering breakdancing and rap workshops to secondary and primary schools. A year in, he also started taking on freelance assignments as a communications professional, which really got things rolling. In 2011, he founded the Handstand communication agency with his childhood friend Gerrald Hekman, who had also studied Communication Science at the University of Twente. 'We cater to social care professionals, so most our clients are working to make a difference in society. In practice, that means social work, debt assistance, care, education, culture and social housing organisations. We focus on strategy, design and content: the creative side of communication and marketing', Ivo explains. Handstand has since set up its offices in Roombeek and employs a team of 5. They attend the annual Twente Business Days, where they hold workshops and provide personal branding advice. Ivo also organises workshops for student boards, through the Student Union. 'That's always a lot of fun, and I get to pass on some of my experience to today's more active students.'
Ivo also maintains close ties with other alumni. In fact, he shares an office with them every day! He also still sees lots of his old buddies outside of work hours; his dance group Relax is still made up of friends. They organised Christmas dinners for many years, and still frequently celebrate their birthdays together (these days, they also bring their partners and kids). In fact, they are even planning a weekend outing at the moment. These friendships are clearly very important to Ivo: 'The people around me were one of the main reasons I decided to stay in Enschede. The fact that I'd built up a circle of friends, acquaintances and a business network here. That network was the foundation for Handstand, and it pretty much all started at UT.'
Ivo stands on the left in the group picture.