In 2006, chemical engineering graduate Avinash Narayanaswamy applied for different kinds of environmental study programmes all over the world. Soon after, he got accepted into universities in both New Zealand and Germany. However, it ended up being the University of Twente (UT) that Avinash travelled to the other side of the world for.
In 2007 Avinash started the masters programme Sustainable Energy Technology at the UT. Initially, student life wasn't easy due to the culture shock and homesickness he experienced as a student from India. Furthermore, he was on a lot of pressure to excel academically as a scholarship student. However, with support from the student counsellor and the Indian Student Association, he found his way around soon after. "Now, I realize that it helped me a lot to grow as a person. And in the end, I had a fabulous student life! I played table tennis, chess and cricket.. Yeah, I kept myself pretty busy." Avinash resided at the international Macandra building on Emmastraat, which he enjoyed a lot. "I made very good friends from all over the world, probably across 6 continents, with whom I am still in touch today."
After finishing his masters in Sustainable Energy Technology, the brand new UT graduate went back to India not knowing he would be back soon enough. For a while, he did research at the University of Agricultural Sciences in Bangalore, until he got the opportunity to partake in a European project supported by the UT. With a fully biodiesel powered Volkswagen car, Avinash and his project mates drove across 10 European countries without any major problems to the engine. "That was a very special event in my life, putting into practice the sustainable principles I had learned to value so much." Soon after he returned to India, the urge to start studying again led him to apply for his second masters at the UT, this time in Environmental & Energy Management. So, in 2013, Avinash packed his bags to leave for Leeuwarden, where the UT also offers study programmes. "I gained a lot of knowledge and hands-on tools for both the technical and non-technical concepts of sustainable development because of my two masters."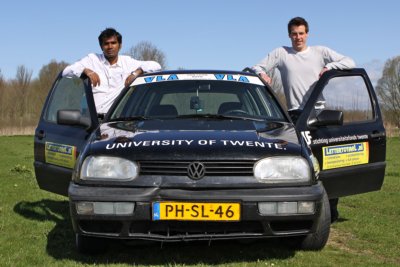 In 2015, Avinash graduated from his second UT master and went back to India to work at a friend's company which worked on solar rooftops and rainwater harvesting projects. After two months, he got a call from an University to start working as a senior scientific officer on biodiesel. "It was interesting, but nothing much happened in terms of groundwork. I like to walk the talk, so as a sustainable practitioner I wanted to get things off the ground." He, thus, switched to another university where he was able to set up his own lab and start developing products from biodiesel; a practice he is still working on, but now with his own start-up company Green LAW. With his start-up, he creates sustainable products - handwash, floorwash and biodegradable cutlery – while also raising awareness on sustainable lifestyle practices by educating young people at schools and colleges. "Green LAW is about hardcore sustainability. So, the principles of sustainable development are deeply embedded in the foundation of my start-up. For example, I get waste cooking oil from hotels and restaurants and I convert that into biodiesel, on which my car partly drives. And of course it has a UT sticker on it!"
Avinash's efforts with Green Law haven't gone unnoticed. His company won several awards on conferences in both Bangalore and Delhi, for promoting sustainable behaviour in society and supporting the circular economy with his company. It was one of these awards that led Avinash to take the most memorable trip of his life: the 2041 Climate Force Antarctica Expedition. After winning the award, he came in touch with an organization in the US who selected him to join. The UT was chief sponsor. "Antarctica is heaven on earth. But also scary. Our ecosystem, which is so fragile, is now even more vulnerable. I mean, I got to see rainfall.. How is it raining in a place where it is supposed to snow? But these things are pushing me really hard to make a point. We need to take action for our future generations. Yes, I was deeply touched by what I saw in Antarctica." Now more than ever, he is motivated to inspire others to live sustainably. That is why he is currently organising a biodiesel rally across India, Nepal and Bhutan, which will take place in August. The idea is to stop at universities in 19 cities across the route and engage with youth organizations and students who are working for the environmental cause.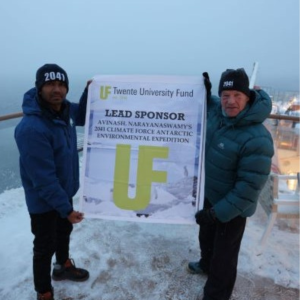 Throughout his career, Avinash has always stayed in touch with the UT and its alumni: "They understand the kind of passion that goes into what I am doing." Consequently, he hopes to inspire the community with his endeavours. In 2017, he came back to the UT to give a guest lecture at the CuriousU programme and he is hoping to visit the campus again soon to show his documentary about the trip to Antarctica. "Thanks to both the Indian and Dutch education systems, I gathered the guts to do something different and become an entrepreneur. Especially the support I received from Professors Dr. Balakrishna Gowda, Dr. Joy Clancy and Dr. Yoram Krozer as well as the constant support from my parents motivated me a lot. It all laid the foundation for what I am doing today."