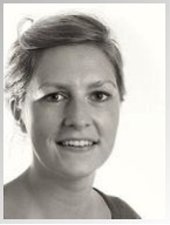 A. (Anke) Christenhusz MSc
Technohal room 2184
a.christenhusz@utwente.nl 
GENERAL INFORMATION
Anke Christenhusz was born in Oldenzaal, the Netherlands, in 1987. After graduating high school in Oldenzaal in 2007, she started to study Technical Medicine at the University of Twente in Enschede. She obtained her Master's degree in Technical Medicine in September 2017 (Track Robotics & Imaging) and started to work as a researcher at the Magnetic detection & imaging group and the Surgery Department of the Medisch Spectrum Twente hospital in Enschede.
 RESEARCH INFORMATION
Anke's main area of interest is Magnetic detection & imaging. The topic of her Master thesis was related to the Magnetic Sentinel lymph node detection and metastasis evaluation in breast cancer patients.
Besides the Magnetic studies, she is working on a project with the Radboud Medical Centre (Nijmegen) to develop a quick response test for the identification of bloodstream infections in patients with TPN.