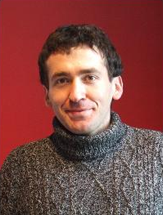 Name: Nikolay Dimov
Current position: Research Fellow LoC Biodetection; Microfluidics & Microengineering Research Group; School of Engineering & Technology; University of Hertfordshire; United Kingdom
Resume
Nikolay Dimov was born in 1979 in Kazanlak, Bulgaria. He graduated from Saint- Petersburg State Technological University, Russia, receiving a BSc in Biotechnological and chemical engineering.
He continued his education in the international master course of Molecular Bioengineering (Biotechnologisches Zentrum der Technische Universität, Dresden). In 2007 he received his MSc degree after a project on the production of anti-freezing coatings on metal surfaces mimicking cold resistant bacteria.
In January 2008 he started as PhD student at the University of Twente, Enschede, The Netherlands, in the MCS group, where he worked on the development of an artificial on-chip pheromone producing system resembling the pheromone producing system of Spodoptera Littoralis. He defended his PhD thesis and obtained the doctoral degree on 27 April 2012. After a post-doc period in Dublin, Ireland, he became a research fellow at the University of Hertfordshire in the UK.