High n Members of Ruddlesden-Popper Lan+1NinO3n+1 for Oxygen Evolution Reaction
Project motivation: The electrolysis of water is of great importance to store renewable energy via green hydrogen. However, its efficiency is largely limited by oxygen evolution reaction (OER) activity, where the high overpotential is required to evolve oxygen. Extensive theoretical and experimental work has achieved OER activity enhancement of oxide catalysts based on the material design principles, also called descriptors. The  eg electronic orbital occupancy was found as one such descriptor, where the optimum OER activity was shown for eg orbital filling close to unity, but making high-performance catalysts based on this design principle remains difficult
Project goal: In this project, we investigate the OER activity of the high n members of Ruddlesden-Popper layered nickelate perovskites, Lan+1NinO3n+1. We will be able to tune the eg occupancy with n, allowing us to tune OER activity.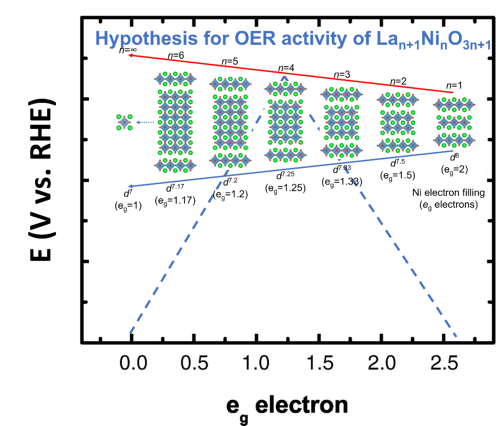 Figure. Hypothesis for OER activity of Ruddlesden-Popper layered nickelate perovskites based on experimental eg occupancy descriptor1.
Role of MSc student:  We are looking for motivated students who have a background in physics, chemistry, materials science or nanotechnology. The main tasks will be:
Thin film growth of Lan+1NinO3n+1 on single crystal substrates by pulsed laser deposition (PLD) equipped with in-situ reflection high-energy electron diffraction (RHEED)
Characterizations of thin films: atomic force microscopy (AFM), X-ray diffraction (XRD), x-ray reflectivity (XRR), X-ray photoelectron spectroscopy (XPS), transport measurements, OER activity.
Reference
1. J. Suntivich et.al, A perovskite oxide optimized for oxygen evolution catalysis from molecular orbital principles, Science, 2011, 303, 1383.
Contact
Chris Baeumer, C3233, c.baeumer@utwente.nl