High-Mobility Broadband Transparent Contacts for Solar Cells at RT
Available from Jan. 2023
Project motivation: Broad-band transparent and high-mobility transparent conducting oxides (TCOs) are required to maximize light absorption and electrical performance in solar cells. Gentle deposition techniques for the TCOs are required to avoid thermal or physical damage to the substrate or layers underneath, for example, during the deposition of the front TCO in solar cells (figure below) (Ref. M. Morales-Masis et al. Adv. Electron. Mater. 3 (2017)).
Project goal: study the crystallization and band gap tuning of Zr-doped In2O3 transparent conducting oxide thin films deposited at room temperature. Films will be grown by pulsed laser deposition (PLD) at different conditions, followed by in-depth characterization to assess material quality, microstructure, dopant efficiency and carrier transport properties. This with the goal of building structural-property relations and find the optimum conditions for application in high efficiency tandem solar cells.
Tasks of MSc student: the films will be grown by pulsed laser deposition (PLD) and characterized by temperature-dependent X-ray diffraction, Hall effect measurements, UV-Vis-NIR spectrophotometer, AFM. Experimental data will be used to propose a model for band gap tuning based on microstructure. Application on proof-of-concept solar cells is also foreseen.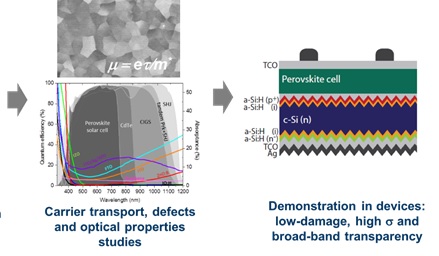 *Option for Capital Selecta course: Introduction to Optoelectronic Materials (5 EC).
Contact:
Wiria Soltanpoor w.soltanpoor@utwente.nl
Monica Morales-Masis, CR 3237, m.moralesmasis@utwente.nl , +31534891791
https://www.utwente.nl/en/tnw/ims/research/research-morales/