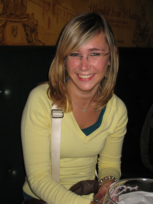 Biography
Giulia Marchioli studied Biotechnology at the University of Trieste, Italy and received her Bachelor degree in July 2007 after a four months project on enzymes immobilizations procedures in the laboratory of Applied and Computational Biocatalysis, in the Pharmaceutical Science Department of the University of Trieste. She then continued with her master degree in Medical Nano-Biotechnologies in Trieste. In 2009 she started a 1 year internship, under the supervision of Prof. Paoletti, and graduated in 2010 with a thesis titled "Bioactive Hydrogels for Orthopedics Applications". She started working as a PhD in the University of Twente in November 2010.
SUMMARY OF RESEARCH
Islet transplantation offers a promising therapy for type 1 diabetes. However, islets transplants are associated with a very low engraftment potential and more than 60% of the islets are lost shortly after transplantation. For this reason the development of supportive and protective islet carriers is needed to increase transplantation efficiency. The main focus of the project is to create a scaffold that can provide a beneficial environment for islets of Langerhans transplantation and overcome the currently experienced limitations. The scaffold design we are currently developing might be able to increase islets viability after transplantation by increasing oxygen and nutrient supply to the islets, increase accessibility for host vasculature to the scaffold and provide stimulating molecular cues to increase islets functionality.
Publications
Wettability influences cell behavior on superhydrophobic surfaces with different topographies.
Lourenço BN, Marchioli G, Song W, Reis RL, van Blitterswijk CA, Karperien M, van Apeldoorn A, Mano JF.
Biointerphases. 2012 Dec;7(1-4):46.
Mechanical spectroscopy and relaxometry on alginate hydrogels: a comparative analysis for structural characterization and network mesh size determination.
Turco G, Donati I, Grassi M, Marchioli G, Lapasin R, Paoletti S.
Biomacromolecules. 2011 Apr 11;12(4):1272-82.
Contact details
Giulia Marchioli, MSc
Department of Developmental BioEngineering
Building Zuidhorst, Room no: ZH129
Drienerlolaan 5, PO BOX 217
7522NB Enschede, The Netherlands
Phone: +31-(0)53-4893019
E-mail: g.marchioli@utwente.nl