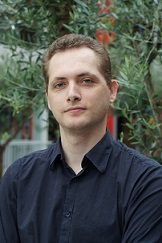 Name Jeroen Leijten 
E-mail j.c.h.leijten@utwente.nl
Room ZH145
Phone +31 (0)53-489 4576
Function Assistant professor
Research Complex Tissue Engineering
Research focus Advancing our ability to engineer tissues via exploration of enabling technologies.
BIOGRAPHY
Jeroen Leijten earned his Master's degree in studied Biomedical Sciences at Leiden University. He then worked as a PhD-student at University Twente, the Netherlands, in the department of Tissue Engineering under the supervision of professors Clemens van Blitterswijk and Marcel Karperien. The largest accomplishment of my predoctoral research was the unraveling of the question why healthy articular cartilage is resistant to hypertrophic differentiation, which prevents endochondral bone formation and osteoarthritis. This research has yielded indispensable insights in basic biology, joint pathology, and skeletal tissue engineering. Subsequently, I trained as a postdoctoral researcher at 1) Twente University, The Netherlands, under Prof. Marcel Karperien where I developed microfabrication techniques and fabricated novel microfluidic devices to generate micromaterial for the creation of multiscale hierarchical tissue constructs; 2) KU Leuven, Belgium, under Prof. Frank Luyten, where I explored microfabrication techniques to investigate the effect of micro-organoid formation of periosteal derived stem cells for skeletal tissue engineering application; 3) Harvard-MIT, USA, under supervision of Prof. Ali Khademhosseini where I led my own subgroup, which focused on the development of responsive biomaterial based 3D microenvironments to steer the stem cell behavior. Currently, Dr. Jeroen Leijten is an Assistant Professor at University Twente and a Visiting Scientist at Brigham and Women's Hospital, Harvard Medical School, and Biomaterials Innovation Research Center (BIRC). His research focuses on the development of nano- and microscale tools using enabling technologies to drive the generation of multiscale bioengineered constructs for skeletal tissue-engineering applications. These developments are expected to yield unparalleled control over biomaterial architectures and cellular behavior. Specifically, he is developing cutting edge technological platforms for the generation of micromaterials that enable the fabrication of multiscale hierarchical tissue constructs that control stem cell behavior at the nano, micro, and macro scale.
PRIZES AND AWARDS
Best abstract award, Gordon Research Conference, Switzerland (2009), Shared best Poster Award, Dutch society for biomaterials and tissue engineering, Netherlands (2010), Poster Award for outstanding scientific contributions, Gordon Research Conference, USA, (2011), Fellowship Award Dutch Arthritis Foundation (2012), Rapid fire award, World Biomaterials Conference, China (2012), Presentation award, Gordon Research Conference, Switzerland (2013), F+ award for Upcoming Scientific Talent (2013), Postdoctoral Excellence Fellowship by Belgium's FWO (2014), Mobility Fellowship by Belgium's Government award (2014), Presentation award, BioMems conference, USA (2015), Highly prestigious early career award for independent research by Dutch Innovative Research Incentives Scheme: Veni (2015), Presentation award BioNano conference, USA (2015).
PUBLICATIONS of interest
Leijten JCH, and Khademhosseini A. Multiscale Bioengineered Environments to Direct Stem Cell Behavior. Cell Stem Cell. 2016 Jan 7;18(1):20-4. doi: 10.1016/j.stem.2015.12.013.
Leijten JCH, Georgi N, Moreira Teixeira LS, Blitterswijk CA, Post JN and Karperien M. Metabolic programming of mesenchymal stromal cells by oxygen tension directs chondrogenic cell fate. Proceedings of the National Academy of Sciences. 2014 Sep 23;111(38):13954-9. doi: 10.1073/pnas.1410977111.
Leijten JCH, Emons J, Sticht C, van Gool S, Decker E, Uitterlinden A, Rappold G, Hofman A, Rivadeneira F, Scherjon S, Wit JM, van Meurs J, van Blitterswijk CA and Karperien M. Gremlin 1, frizzled-related protein, and dkk-1 are key regulators of human articular cartilage homeostasis. Arthritis and Rheumatism. doi: 10.1002/art.
Projects
Dr. Leijten has vacancies for Bachelor, Master, and PhD students at a regular basis. If you are interested in a PhD position in our Department you can express your interest by sending a motivation letter and a CV to the secretary, Miss Ingrid van der Schoor.