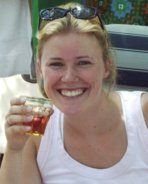 Bibliography
Janneke started her study Biomedical Engineering at the University of Twente in 2003. She completed the bachelor degree with a three-months research project at the Medisch Spectrum Twente (MST) hospital in Enschede and continued with the master Molecular, Cellular and Tissue Engineering. She did an internship at the Nijmegen Centre for Molecular Life Sciences and finished her study in the beginning of 2009 with a master assignment "Optical imaging methods to monitor nutrient transport in TE constructs" at the Tissue Regeneration group. In March 2009, she started working as a PhD student.
Research
As an alternative to daily insulin injections, patients with type 1 diabetes can be treated by intrahepatic transplantation of donor islets of Langerhans. Although promising, this therapy is still highly inefficient which has limited its clinical use. In this project, we explore several strategies to improve islet transplantation for type 1 diabetes. We developed a novel method to non-invasively characterize islet transplants, in which Raman spectroscopy was used for the label-free classification of various cell types. We are currently working on a standardized generation of pseudo-islets that can be used as an in vitro model for donor islets of Langerhans. In addition, we explore methods to immobilize pancreatic islets on biomaterials, aiming at improving islet survival and function.
Publications of interest
Ganser A, Roth G, van Galen JC, Hilderink J, Wammes JJ, Müller I, van Leeuwen FN, Wiesmüller KH, Brock R. Diffusion-driven device for a high-resolution dose-response profiling of combination chemotherapy. Anal Chem. 2009;81(13):5233-40.
Doi: 10.1021/ac900415s
Contact information
Janneke Hilderink, MSc
Department of Developmental BioEngineering
Building Zuidhorst, Room no: ZH146
Drienerlolaan 5
PO box 217, 7500 AE Enschede
Phone: +31-(0)53-4893496
E-mail: j.hilderink@utwente.nl
Former students
Filipa da Silva
Bart Schurink