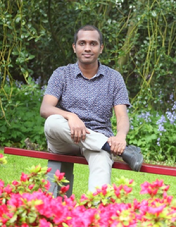 Biography

Kannan Govindaraj was born in 1986 at Trichy, India. He obtained his Bachelor degree in Zoology (2007) and Masters degree in Molecular Biosciences (2009) at Bishop Heber College (Bharathidasan University), Trichy, India. For his Masters dissertation, he worked in the area of "Economical production of Polyhydroxyalkanoates (Biodegradable plastics)". Soon after his graduation, he worked as an Asst. Professor in the PG Dept. of Molecular Biosciences in Bishop Heber College from August 2009 to April 2012. Later, he switched his career to research and joined Center for Cellular and Molecular Biology (CCMB), Hyderabad, India, as Project Fellow and worked in the field of basic cellular physiology to understand the events in cell migration with special emphasis on microscopic techniques. Currently (from June 2014), he is a doctoral candidate under the supervision of Dr. Janine Post and Prof. Dr. Marcel Karperien at the Developmental Bioengineering Department, University of Twente, The Netherlands.
Research Summary
"Protein Mobility in Osteoarthritis Pathophysiology"
Osteoarthritis (OA) is a cartilage degenerative disease and millions are suffering worldwide. Cartilage degeneration is the result of imbalance between anabolic and catabolic processes. In addition to that, increased expression of proteolytic enzymes such as matrix metalloproteinases and aggrecanases also play an important role in the onset of the disease. Treating OA is limited to symptomatic treatments as drugs curing OA is not yet developed as our current understanding about molecular mechanisms involved in this disease progression is not yet fully explored.
It is important to understand the switching mechanism between hypertrophic cartilage and permanent cartilage. This will give new insights in to therapeutic possibilities to OA. Transcription factors SOX9 and RUNX2 are known to play a key role in this switching mechanism. My current research involves mapping their mobility in chondrocytes using biophysical methods such as FRAP and FRET.
Publications
"Synthesis of glycopolymers at various pendant spacer lengths of glucose moiety and their effects on adhesion, viability and proliferation of osteoblast cells".
Mummuluri Trinadh, Govindaraj Kannan, Tota Rajasekhar, Annadanam V. Sesha Sainath and Marshal Dhayal. RSC Adv., 2014, 4, DOI: 10.1039/C4RA05436A
"Synthesis and characterization of poly (ethylene oxide)-based glycopolymers and their biocompatibility with osteoblast cells" Mummuluri Trinadh, Kannan Govindaraj, Tota Rajasekhar, Marshal Dhayal and Annadanam V Sesha Sainath. Polym. Int. (2014) DOI: 10.1002/pi.4854
Contact details
Mr. Kannan Govindaraj
PhD Scholar
Developmental BioEngineering
Room no: ZH132
Drienerlolaan 5
7522NB Enschede, The Netherlands

Phone: +31-(0)53-489-4775
Email: k.govindaraj@utwente.nl