Tuesday 1 March 2022
The CRPH group proudly announces that the Dutch Research Council (NWO) granted the NOCTIVENT proposal within the Open Technology Programme, domain Applied and Engineering Sciences. The full title of the project is 'Improving chronic nocturnal noninvasive ventilation in COPD patients: a multimodality approach'. CRPH staff member dr. Eline Oppersma is the primary investigator of this project, collaborating with pulmonologist dr. Marieke Duiverman from the University Medical Centre in Groningen and industrial partners.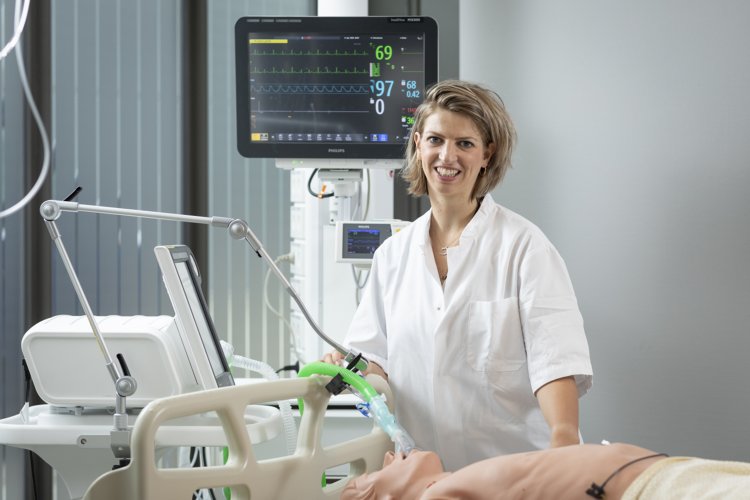 In patients with severe stable chronic obstructive pulmonary disease (COPD), chronic nocturnal noninvasive ventilation (NIV) has been shown to result in physiological and clinical benefits. However, while achieving optimal ventilator efficacy is challenging in this group, there is an imperative need to move care from hospital to home. First, we aim to greatly improve chronic NIV treatment by using more precise, synchronized and continuous monitoring of mechanics, patient-ventilator synchrony and gas exchange. Second, the developed system will be designed for sufficient stability and reliability to be used at home without the extensive aid of caregivers. Therefore, in the present study, we aim to develop an integrated monitoring system that allows for automatic detection of events, easy interpretation, and eventually a set-up for a closed loop feedback system improving chronic NIV in severe COPD patients.
The total budget of 700.000 euros includes the position of 1 PhD-student and 1 research nurse, with additional budget for the purchase of data acquisition devices and data collection hubs to provide and optimize home mechanical ventilation for COPD patients.