Monday 27 November 2017
Municipal and economic delegation from Dongying, China visits BST
On Friday, November 24, 2017, a delegation of 28 economic leaders from the city of Dongying in the Shandong Province of China visited the Biomaterials Science and Technology (BST) Department.  The delegation, which included representatives from the Dongying municipality and industry, was headed by Mr. Yang Changjun, the deputy director of Dongying Municipal Economic and Information Technology Committee.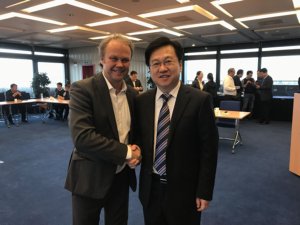 The guests were received by Prof. Dr. Dirk Grijpma, the head of the BST department. The delegates met with several of the professors of BST who are active in different fields of biomedical research but all involved in implementation of their results in industry. The program of the meeting included general information about the University of Twente and a brief review of the research that is conducted within BST. Prof. Dimitrios Stamatialis presented his work on the development of an artificial kidney. This topic aroused great interest, and his presentation was followed by a discussion on the economic feasibility of translating the techniques to the Chinese market. There was also considerable interest in the development of resorbable polymeric materials for application in regenerative medicine and in the research on vascular tissue engineering and lung on a chip systems given by Prof. Grijpma and Dr. André Poot.
During the meeting, the opportunity of further cooperation between the BST Department and Donying City was discussed, and Mr. Yang Changjun representing the Chinese delegation, warmly invited staff, researchers and other interested members of the BST department to visit Dongying.