Friday 4 November 2022
Their exciting journey started over four years ago, but is now coming to an end. On 4 and 5 November, the i-Botics team will compete in the finals of the ANA Avatar XPRIZE in Los Angeles. As the only Dutch team, they will compete against 16 other candidates for the grand prize of five million dollars!
The Ana Avatar XPRIZE is a four-year international competition to develop an avatar system that can transport human presence to a remote location in real time, leading to a more connected world. Team i-Botics, a consortium led by the University of Twente and research institute TNO, has developed an advanced avatar system that allows an operator to see, hear, and interact in a remote environment in a way that feels like they are truly there. The operator can crawl into the avatar's skin as if it were its own body.
Team i-Botics showcasing their system for the finals
'Making the world a better and safer place'
I-Botics envisions a world where distance does not stand between people, and where people can apply their skills and knowledge to make the world a better and safer place. They are determined to create both societal impact (e.g., in challenges related to aging, health care, safety and security) and business impact (i.e., contributing to strengthening the business proposition of our partners). "For example, this technology can be used in hazardous environments, such as nuclear power plants, where people cannot reach them safely", says Stefano Stramigioli, Scientific Director of i-Botics.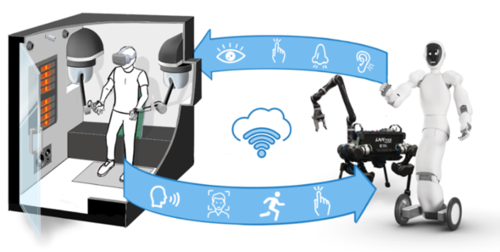 Illustration of the i-Botics avatar system
The finals
So this weekend, after 4 years of hard work, it is finally time: the finals! "Being here in Los Angeles with our team is a very exciting experience", says Stefano Stramigioli. "We are here with 17 finalists from over 90 teams originally. Although the undeniably tough competition, we are convinced that we have a serious chance."
During the final event, the competing teams need to complete a series of complex tasks. The robots (and their operators) will have to demonstrate their ability to transport the skills of a human to remote locations in real time. The scoring will be done by a judge acting as the operator of the avatar system. Stramigioli: "The judge will be trained for an hour to use our system, after which they will run a 25 minutes public trial. The trial will be conducted in an arena filled with over 2000 people, including some executives of the ANA company, and people will be able to watch via the livestream."
Watch online
The finals will take place on November 4 and 5, from 10:00 AM – 6:00 PM PST (6:00 PM - 02:00 AM CET) at the Long Beach Convention Center in Long Beach, Los Angeles. During the two-day live event, you can exclusively watch finalist teams from around the world push the boundaries of immersive telepresence technology - combining robotics, VR, haptics and more.
Do you want to watch the i-Botics team compete in the finals? You can register to join the livestream via the XPRIZE website.
Team i-Botics
I-Botics is a consortium led by TNO (Netherlands) and the University of Twente (Netherlands), including SENSIKS. (Netherlands), ETH Zurich's Robotic Systems Lab (Switzerland), Halodi (Norway), and Haption (France).
More information can be found on the i-Botics website.