"Lunch discussion with the inspirational UT'er of February: Marloes Letteboer"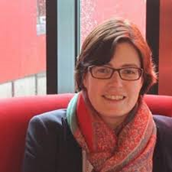 22 February 2016 from 12.30 till 13.30 hrs.
In the Drienerburght Hotel
Marloes Letteboer
Since the 1st of June 2015, Marloes Letteboer is the managing director of the MIRA Institute. Prior to this, Marloes has been the director of the Applied Physics educational program for five years. She earned her degree in Applied Physics at the University of Twente. Her PhD research took her to Utrecht, where she focused on medical imaging. In the seven years that followed, Marloes held a number of positions at University Medical Center Utrecht. Marloes is married, lives in Hengelo and has two children, Lotte (8) and Casper (7)
Inspirational UT'er of the month lunch discussion series
"We have a dream: a workplace in which both men and women are given the flexibility to excel in all facets of their life, in which work and private life can coexist, in which employees are happy and motivated leading to an innovative and creative environment in which scientific breakthroughs flourish…. And this dream could be the University of Twente in 2020!"
It is possible! We have already in our organization plenty of inspirational examples of UT'ers that are combining very successful careers with fulfilling private/family life. We would like to learn from their experiences and find out our strong and weak points to succeed in creating the most inspiring and inclusive environment to achieve our dream. So join us at this inspirational UT'er of the month lunch discussion on 22nd of February and share your experiences with your colleagues!
For whom?
FFNT members and any academic staff members interested in how successful work-life balance can be achieved at the University of Twente
If you want to attend this lunch discussion please register at: ffnt@utwente.nl. The number of places is limited and offered on the first come first serve basis.
If you cannot attend the event after registration, please cancel in writing to contain the costs of the event. Thank you for your understanding.
Looking forward to seeing you!
Upcoming other FFNT activities:

•February 9:   Women in Science

•March 8:      International Women's Day

•March 15:    Workshop Career Success

•March 30:    Lunch discussion with Alexander Brinksma

•April 11:       Lunch discussion with Jennifer Herek




For more details on the upcoming events, please visit our webpage: https://www.utwente.nl/ffnt/









FFNT embraces diversity and promotes female academic leadership: www.utwente.nl/ffnt  If you have suggestions for the FFNT Board, please contact the FFNT Board at ffnt@utwente.nl