Dear FFNT member,
The Female Faculty Network Twente invites you to the Lunch discussion with the inspirational UT'er of November:
SONIA GARCIA BLANCO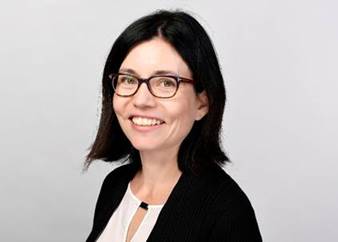 ON NOVEMBER 22, FROM 12.30 TILL 13.30 HRS. 
IN THE DRIENERBURGHT HOTEL
For whom
FFNT members and any academic staff members interested in how successful work-life balance can be achieved at the University of Twente.
Sonia Garcia Blanco
Sonia García-Blanco is an associate professor in the Optical Sciences group. She obtained her PhD degree in integrated optics at the University of Glasgow in 2003. After a post-doctoral fellowship at the University of Toronto, she became a scientific staff member at INO (Institute National d'Optique) in Québec City, Canada. In 2010, she joined the University of Twente as a Tenure Track assistant professor. Since 2013, she leads the Integrated Optical Systems subgroup, the research interest of which deals with the development of novel integrated photonic devices, including waveguide amplifiers and lasers integrated on passive technology platforms and integrated optical sensors. She is a member of the JA@UT and board member of the FFNT. In 2014, she received an ERC Consolidator grant to investigate novel sources in rare-earth ion doped crystalline materials. Sonia and her husband Fraser live in Enschede with their two children, Marco (almost 4) and Elena (almost 2).
Inspirational UT'er of the month lunch discussion series
"We have a dream: a workplace in which both men and women are given the flexibility to excel in all facets of their life, in which work and private life can coexist, in which employees are happy and motivated leading to an innovative and creative environment in which scientific breakthroughs flourish…. And this dream could be the University of Twente in 2020!"
It is possible! We have already in our organization plenty of inspirational examples of UT'ers that are combining very successful careers with fulfilling private/family life. We would like to learn from their experiences and find out our strong and weak points to succeed in creating the most inspiring and inclusive environment to achieve our dream. So join us at this inspirational UT'er of the month lunch discussion on the 22th of November and share your experiences with your colleagues!
Upcoming lunch discussions
For more details on the upcoming lunch discussions and activities, please visit our webpage: https://www.utwente.nl/en/ffnt/events/
If you want to attend the lunch discussion please register at: ffnt@utwente.nl. 
If you cannot attend the event after registration, please cancel in writing before the lunch discussion to contain the costs of the event. Thank you for your understanding.
Looking forward to seeing you!
With kind regards,
FFNT board
 Please note in your agenda: FFNT Conference on November 8 from 14.00-18.00 hrs. Information on the Conference can be found here.
The Female Faculty Network Twente (FFNT) is a network for female scientific personnel at the University of Twente. FFNT embraces diversity and promotes female academic leadership.
If you have suggestions for the FFNT Board, please contact the FFNT Board at ffnt@utwente.nl