Event: Lunch discussion with the inspirational UT'er of February: Alexander Brinkman
When: 30th March 2016
Where: 12.30-13.30, Drienerburght
For whom: FFNT members and any academic staff members interested in how successful work-life balance can be achieved at the University of Twente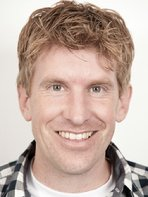 Alexander Brinkman
Alexander Brinkman is the chair of the Quantum Transport in Matter group since February 2011. He obtained his PhD degree in Applied Physics at the University of Twente in 2003. After several post-doctoral positions in Geneva and FOM, he returned to the University of Twente to head the Materials science of superconductors and devices group. He is recipient of several prestigious personal grants such as the Veni, Vidi and ERC Consolidator grants. He was the best professor of the year in 2010. He is the member of 'De Jonge Akademie' of the Royal Dutch Academy of Science. He is married and has two children aged 3 and 5, with whom he loves spending as much time as possible.
Inspirational UT'er of the month lunch discussion series
"We have a dream: a workplace in which both men and women are given the flexibility to excel in all facets of their life, in which work and private life can coexist, in which employees are happy and motivated leading to an innovative and creative environment in which scientific breakthroughs flourish…. And this dream could be the University of Twente in 2020!"
It is possible! We have already in our organization plenty of inspirational examples of UT'ers that are combining very successful careers with fulfilling private/family life. We would like to learn from their experiences and find out our strong and weak points to succeed in creating the most inspiring and inclusive environment to achieve our dream. So join us at this inspirational UT'er of the month lunch discussion on the 30th of March and share your experiences with your colleagues!
Upcoming lunch discussions
For more details on the upcoming lunch discussions, please visit our webpage: https://www.utwente.nl/ffnt/