Dear FFNT member,
The Female Faculty Network Twente invites you to the Lunch discussion with the inspirational UT'er of September:
Kerensa Broersen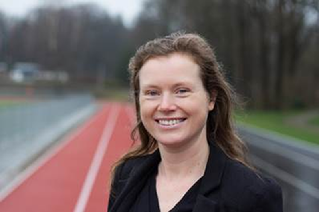 on September 12, from 12.30 till 13.30 hrs.
in the Drienerburght Hotel
For whom
FFNT members and any academic staff members interested in how successful work-life balance can be achieved at the University of Twente.
Kerensa Broersen
Kerensa Broersen is an assistant professor in the Nanobiophysics group. She obtained her PhD degree in Protein Biochemistry at Wageningen University in 2005. She spent various post-doctoral positions at the Medical Research Council in Cambridge UK and the Free University of Brussels in Belgium. In 2010 she was asked by Vinod Subramaniam to apply for a tenure track assistant professor position in the Nanobiophysics group, now headed by Mireille Claessens, and was appointed under an UTWIST fellowship in 2011. She is leading a team of scientists interested in establishing the origins of Alzheimer's disease and obtained a number of prestigious grants on the way including an FWO Odysseus grant (equivalent to Vidi) and a ZonMw Memorabel award. She is a boardmember of 'The Young Academy @ UT' and a member of the TNW Faculty Council. She is married with Arjen and lives with her two children, Kjell aged 3 and Rhune aged 2, in Boekelo. Her hobbies are spending time with her children, running and she manages a Little Free Library for the neighborhood.
Inspirational UT'er of the month lunch discussion series
"We have a dream: a workplace in which both men and women are given the flexibility to excel in all facets of their life, in which work and private life can coexist, in which employees are happy and motivated leading to an innovative and creative environment in which scientific breakthroughs flourish…. And this dream could be the University of Twente in 2020!"
It is possible! We have already in our organization plenty of inspirational examples of UT'ers that are combining very successful careers with fulfilling private/family life. We would like to learn from their experiences and find out our strong and weak points to succeed in creating the most inspiring and inclusive environment to achieve our dream. So join us at this inspirational UT'er of the month lunch discussion on the 12th of September and share your experiences with your colleagues!
Upcoming lunch discussions
For more details on the upcoming lunch discussions and activities, please visit our webpage: https://www.utwente.nl/ffnt//
If you want to attend the lunch discussion please register at: ffnt@utwente.nl.
If you cannot attend the event after registration, please cancel in writing before the workshop to contain the costs of the event. Thank you for your understanding.
Looking forward to seeing you!
With kind regards,
On behalf of the FFNT board,
Edith van Eijk
Secretary FFNT
Please note in your agenda: FFNT Conference on November 8 from 14.00-18.00 hrs. Information on the Conference can be found here.
The Female Faculty Network Twente (FFNT) is a network for female scientific personnel at the University of Twente. FFNT embraces diversity and promotes female academic leadership.
If you have suggestions for the FFNT Board, please contact the FFNT Board at ffnt@utwente.nl