second workshop on AI and Mathematics
connecting the mathematics clusters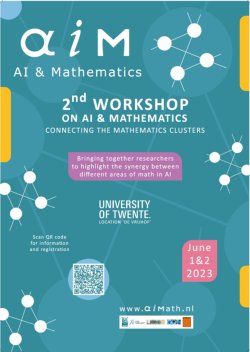 The second AIM workshop is organized by the Dutch Mathematics Clusters and its goal is to highlight the role of mathematics as a key enabling technology within the emerging field of scientific machine learning and bring together researchers across mathematics. Artificial Intelligence (AI) will have a growing impact on all sciences and business sectors, our private lives, and society as a whole. It is pre-eminently a multi-disciplinary technology that connects scientists from a wide variety of research areas, from behavioral science and ethics to mathematics and computer science. Without downplaying the importance of its interdisciplinary nature, it is apparent that mathematics can and should play an active role.
As Robbert Dijkgraaf observed in NRC in May 2019: ''Artificial intelligence is in its adolescent phase, characterized by trial and error, self-aggrandizement, credulity and lack of systematic understanding''. Mathematics can contribute to this much-needed systematic understanding of AI and at the same time lay the groundwork for further improvements.
The two-day program showcases recent research on the interface between mathematics and AI. There will be plenty of time for informal discussions, as well as strategic sessions. 
Registration
Accommodation
You can book rooms yourself directly at the following hotels:
Organizing team
Christoph Brune (UT, chair)
Leo van Iersel (TUD, co-chair)
Tristan van Leeuwen (CWI, co-chair)
Tim van Erven (UvA, co-chair)
Olivia Muthsam (NWO)
Mariëlle Slotboom (UT)
Session Chairs
Geometric Deep Learning session chairs: Remco Duits (TU/e, NDNS+), Bram Mesland (LEI, GQT)
Learned Optimization session chairs: Barbara Franci (UM, STAR), Julia Olkhovskaya (VU, DIAMANT)
Robust AI session chairs: Tim van Erven (UvA, STAR), Sophie Langer (UT, STAR)
Scientific Machine Learning chairs: Benjamin Sanderse (CWI), Tristan van Leeuwen (CWI)
Program Thursday 01 June
09:00 - 10:00

Arrival and registration at the Vrijhof (building 47 on the campus map)

10:00

Opening AIM team

10:15 - 11:15

Session Scientific ML 

Benjamin Sanderse (CWI)
"Structure-preserving learning of embedded closure models"
Philipp Horn (TU/e)
"A Generalized Framework of Neural Networks for Hamiltonian Systems"

11:15 - 11:30

Coffee break

11:30 12:30

Session Scientific ML 

Tristan van Leeuwen (CWI)
"A data-driven approach to solving a 1D inverse scattering problem"
Marcello Carioni (UT)
"Learning regularizers for inverse problems via Optimal Transport"

12:30 – 14:00

Lunch break

14:00 - 15:00

Session Geometric DL 

Jelmer Wolterink - UT, Mathematics of Imaging and AI 
"Geometric deep learning and neural fields in precision medicine"
Gautam Pai - TU/e, Geometric Learning and Differential Geometry 
"Functional properties of PDE-based group equivariant convolutional neural networks (PDE-G-CNNs)"

15:00 – 15:15

Coffee break

15:15 - 16:15

Session Geometric DL 

Sharvaree Vadgama - UvA,  Amsterdam Machine Learning Lab 
"Learning shapes through Kendall Shape VAEs framework"  (digital presentation)
Maxim Pisarenco - ASML (Senior Scientist Machine Learning)
"Teaching machines to understand SEM images"

16:30 – 17:30




Podium discussion involving the audience

Panel members:




17:30 – 18:30

Drinks and group photo

18:30 – 20:00 

Workshop dinner at Vrijhof Theatercafe
Program Friday 02 June
08:45 – 09:00

Arrival and registration

09:00 -  09:50

Plenary talk

10:00 – 11:00

Session Learned Optimization 

Sarah Sachs - UvA, Korteweg-de Vries Instituut
"Optimization, minimax problems and computing Nash equilibria: Why does it matter in the context of machine learning?"
Rui Castro - TU/e, EAISI
"Selective sampling for online prediction with experts"



11:00 – 11:15

Coffee break

11:15 – 12:15  

  Session Learned Optimization 

George Pantazis - TUDelft
"Distributionally robust stability of payoff allocations in stochastic coalitional games"
Wouter Koolen - CWI
"Luckiness in multi-scale online learning"

12:15 – 13:45 

Lunch break




13:45 – 14:45




Session Robust AI

Barbara Franci (Maastricht University)
"Stochastic Nash equilibrium seeking and Learning"
Ilker Birbil  -  UvA, AI & Optimization Techniques for Business & Society
"Finding Regions of Counterfactual Explanations via Robust Optimization"

14:45 - 15:00

Coffee break

15:00 – 16:00




Session Robust AI 

Jakiw Pidstrigach - Universität Potsdam
"Infinite-Dimensional Diffusion Models for Function Spaces"
Tom Sterkenburg - LMU Munich, MCMP,
"Epistemology of Learning Theory"

16:00 – 17:00  

Closing and drinks