Thursday 4 November 2021
On the 1st of Novemeber, Dr. Anastasia Lavrenko, an assistant professor in the RS group, chaired the session on 'Fundamentals and Bounds in Array Processing' in 2021 Asilomar Conference on Signals, Systems, and Computers.
Furthermore, Anastasia had a talk in this conference to present her paper on localization systems.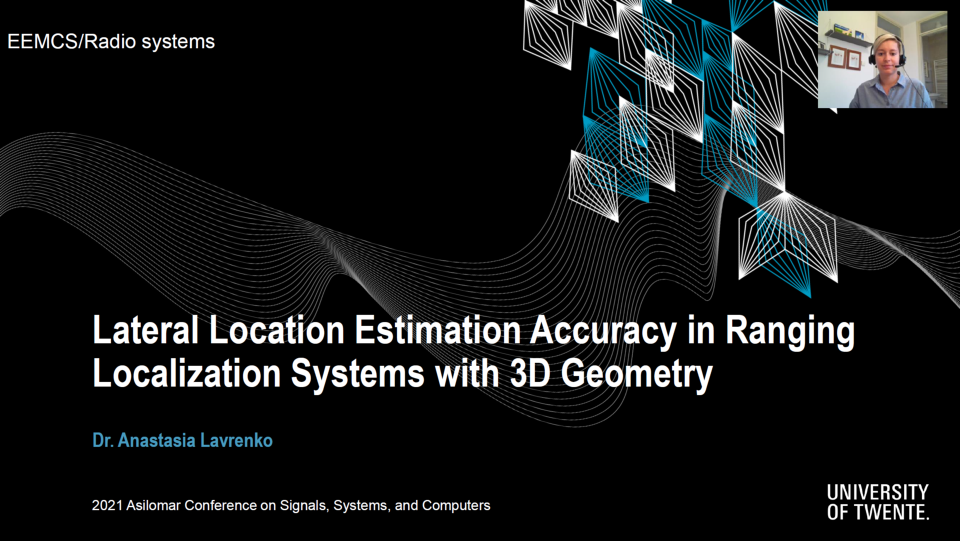 Title: Lateral Location Estimation Accuracy in Ranging Localization Systems with 3D Geometry
Abstract: In this work, we investigate lateral localization accuracy in a ranging system with 3D localization geometry where the target moves largely at a fixed altitude and the primary goal is to determine its lateral position on a horizontal plane. Discarding altitude from the estimation relaxes the 3D estimation problem into a 2D one, while introducing an error to the lateral position estimate. By modelling the target deviation from the estimation plane as a Gaussian random variable, we show that resulting lateral localization error exhibits a typical power-law growth and present a Cramer Rao Lower (CRB) bound that captures this behaviour.