4 GHZ ACTIVE PROBES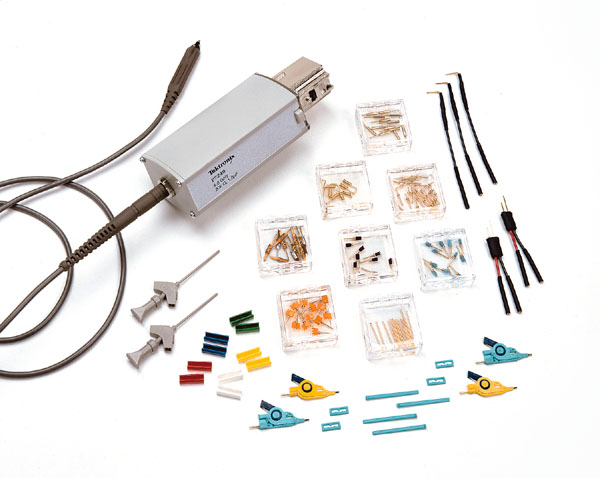 P7240
Features And Benefits
4 GHz Bandwidth
< 120ps Rise-time
Small Form Factor Probe Head
Full Set of SMD Connection Accessories
Direct Access to SMDs as Small as .010"Pitch
Oscilloscopes Supported:


P7240 TDS7404 with TekConnect Interface

Probe Interfaces:


P7240 TekConnect Interface
Applications
High-speed Digital Systems Design
Component Design/Characterization
Manufacturing Engineering and Test
Measures 3.0V Logic, Rambus Data Lines, Gigabit Ethernet
P7240 Active Probe for TekConnect Interface
The P7240 with TekConnect interface is Tektronix' highest-performance active probe, designed for use with the new TDS7404 oscilloscope. High bandwidth and low capacitive loading make this the probe of choice for demanding design applications, such as Rambus, DDR DRAM, and AGP. This probe and the others in its family are also suited for applications in the communication industry, for measurements on FibreChannel and Gigabit Ethernet. The P7240 features the new TekConnect interface which preserves signal integrity to 10GHz and beyond to meet present and future bandwidth needs.
P7240
Characteristics
Bandwidth - DC to 4.0GHz at -3dB (typical, probe only).
Rise-time - < 120ps (guaranteed, 20C to 30C).
Dynamic Range - 2.0V.
Attenuation - 5x.
Input Resistance - 20k Ohm (typical).
DC Offset Range - 5Vdc.
Input Capacitance - < 1pF (typical).
Max Voltage (Nondestruct) - 30V (DC plus peak AC).
Cable Length -
P6209: 1.37m (includes output SMA cable).
P7240, P6249: 1.4m.
Output Load Requirement - 50 Ohm.
Linearity - 0.1% atDC.
Output Offset - Probe Only: 7.5mV or less (20C to 30C).
DC Offset Drift -
150 V/C or less (probe only).
System on-screen display TEKPROBE or TekConnect interface: 0.75mV/C or less.