Differential Probes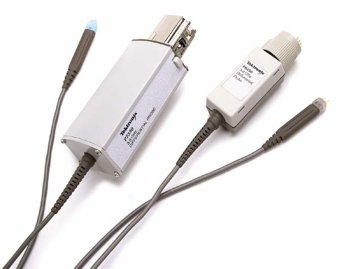 FEATURES AND BENEFITS
P6330
3.5 GHz Bandwidth (Typical)
<130 ps (Typical), <140 ps Rise Time (Guaranteed)
Low Input Capitance: <0.5 pF Differential (Typical)
>60 dB (1000:1) Common Mode Rejection Ratio (CMRR) @ 1 MHz (Typical)
Small Probe Head Allows Easy Probing of SMDs
Applications
Communications (Gigabit Ethernet, Fibre Channel)
Semiconductor Characterization (RAMBUS, Double Data Rate DRAM, AGP, IEEE 1394, USB 2.0, Serial ATA)
Disk Drive Read Channel Design
The P6330 Differential Probe
The P6330 provides high-bandwidth, low circuit loading, low noise differential probing solutions for high-speed circuit designers. The small probe head geometry and assorted probe tip accessories allow these probes to easily accommodate manual probing of surface mount devices.
This probe enables users to make time domain or frequency domain measurements on high bandwidth signals commonly found in digital IC design (Rambus, DDR, IEEE 1394, USB 2.0 and Serial ATA), communication applications (Gigabit Ethernet and Fibre Channel) and disk drive applications.
Characteristics
Bandwidth (Probe Only) -3.0GHz (typical).
Rise Time - < 140ps (< 130ps typical).
Attenuation - 5X.
Differential Input C - < 0.5pF (typical).
Differential Input Resistance - 100 kOhm.
Differential Input Range - 2V (20 C to 30 C).
Common Mode Input Range - +5 to -4V.
Max Voltage (Nondestruct) - 25V (DC plus peak AC).
CMRR - >60dB @ 1MHz (typical).
Noise - Approx. 35nV/rootHz.
Cable Length - 1.3m.