For nanotechnologies to move out of the laboratories, they have to become embedded into society – in production, user and policy settings. We follow processes of embedding and anticipate on possible (responsible) ways of embedding.
The issue of how nanotechnology will get, and should get, embedded in society has to be addressed at an early stage of development, when possibilities to affect developments are still open. In a cluster of four projects we study current processes of embedding – in particular sectors, in emerging governance arrangements aiming at responsible innovation, and in the anticipatory practices of nanotechnology actors. Furthermore, we anticipate on possible future directions and discuss implications by way of socio-technical scenarios and stakeholder workshops.
The project is part of NanoNextNL, a consortium of more than one hundred universities, knowledge institutes, and companies, which is aimed at research into micro and nanotechnology. The project is an element of the Risk Analysis and Technology Assessment theme of NanoNextNL. Within the Technology Assessment programme we are collaborating with partners from the UT Public Administration Department and the Department of Philosophy of Delft University of Technology (Governance and Regulation), the Innovation Studies Group of Utrecht University (Socio-Techncal Scenarios), the Marketing and Consumer Behaviour Group of Wageningen University (Society's Response to Nanotechnology), and the Department of Philosophy of Maastricht University (Ethics). The total sum involved for NanoNextNL is 250 million euros, half of which is contributed by the consortium and the other half by the Government of the Netherlands. The STePS budget is 2,1 million euros. Within the UT, this research is embedded into the research institutes of MESA+ (Institute for Nanotechnology) and IGS (Institute for Innovation and Governance Studies).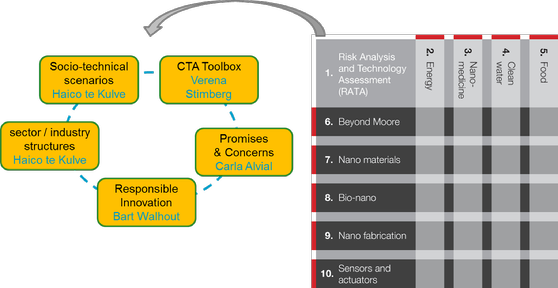 The project team is composed of Dr. Kornelia Konrad (project leader), Dr.ir. Haico te Kulve, Drs. Bart Walhout, Msc. Carla Alvial Palavicino, Dr. Verena Stimberg, Prof.dr. Stefan Kuhlmann (supervisor of PhD projects), and Dr. Peter Stegmaier (programme-level activities).







The projects:
Sociotechnical scenarios and strategy articulation for key areas of nanotechnology
The context of nanotechnology-enabled innovation: changes in industry structure and possible impacts
Practices, Institutionalisation and Impact of Responsible Innovation in Nanotechnology
Governance of and by Expectations: Anticipatory Practices in Nanotechnology
Publications, Conference Papers, Talks and Posters