3. IVY: Implicit improvement of vitality in breast cancer patients
Winner of the Roche Patient Innovation Award 2019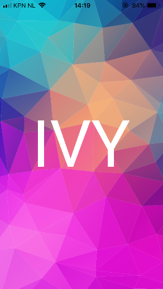 Keywords:
Fatigue, vitality, self-concept bias, cognitive bias modification
Description:
More than 50% of all breast cancer patients experience fatigue symptoms during and after their treatment course. Recent evidence shows that fatigue is partly driven by cognitive biases, such as the self-as-fatigued identity bias, which may be corrected with computer-based Cognitive Bias Modification (CBM) techniques. Effectiveness of CBM has been demonstrated in a variety of domains, but is innovative for fatigue treatment in patients.
The aim of the IVY project is the intervention design of a (preventive) CBM-training. The intervention is developed in a co-creation approach with patients and various breast cancer health professionals. Currently, the new application is tested in a proof of concept design with patients undergoing  neo-adjuvant treatment and compare the primary and secondary outcome measures in a group that used the IVY app and a group of patients without access to IVY. In addition, a qualitative study explores the experiences using IVY and will identify essential aspects for the further development of the eHealth intervention and the keys for implementation in daily oncological practice.
Partners:
Ziekenhuis Groep Twente, BVN
Duration:
2019-2020
Contact person(s) in the SMHA lab: