Biografie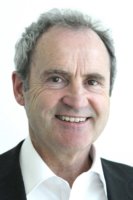 Gerhard Schmitt is Professor of Information Architecture at ETH Zurich, Lead PI of the ETH Future Cities Responsive Cities Scenario, Founding Director of the Singapore-ETH Centre in Singapore, and ETH Zurich Senior Vice President for ETH Global.
Gerhard Schmitt holds a Dipl.-Ing. and a Dr.-Ing. degree of the Technical University of Munich, TUM, and a Master of Architecture from the University of California, Berkeley. His research focuses on urban metabolism with the associated emissions, Smart Cities and linking Big Data with urban design, urban models, simulation and visualization. He and his team developed and taught the first Massive Open Online Courses on Future Cities and Liveable Cities.
From 1998-2008 he served as Vice President for Planning and Logistics and Member of the Board of ETH Zurich. He directed the development of ETH's strategy and planning in cooperation with the 16 scientific departments. From 1984 to 1988 he conducted CAAD research and teaching at Carnegie Mellon University. He joined ETH Zürich in 1988. He was Visiting Professor at Harvard GSD, at the Katholieke Universiteit Leuven, the Technical University of Denmark and at the Technical University of Delft. From 2004-2007 he chaired the Visiting Committee of the Graduate School of Design at Harvard University. Gerhard Schmitt initiated and conceptualized the sustainable ETH Science City Campus in Zürich and received for this work the 2010 European Culture of Science award.
From Smart Cities to Responsive Cities
Smart cities are becoming real. In their first generation after 2006, they offered solutions to problems that were not present in all cities, and the underlying business model was fragile. In the second phase after 2011, cities began searching for Big Data solutions to their real problems, and smart city infrastructure became useful. Yet citizens were still bystanders and subjects, rather than actors. This phase could be called: From sensing to sense making. The ETH Simulation Platform provided the basis to collect, organise and visualise data and turn them into information and knowledge for urban design. In the third phase starting 2016, the Internet of Things must be domesticated, as there will be much more interconnected intelligent objects than people. This could enable citizens to build a new relation with their cities and their governments. In the resulting Responsive Cities, citizens will be involved from the very beginning in the design and management of their sustainable city, building on Smart City infrastructure and mobile devices. Urban Massive Open Online Courses will help to develop Citizen Design Science, the long-term necessity for sustainable cities and societies.