Presence: Mo. / Tu. / Wed. / Thu. / Fr.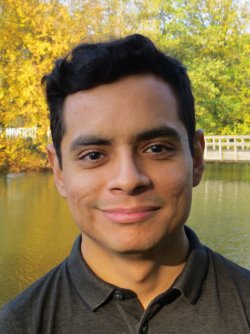 Room: Cubicus, B112a
Phone Number:
+31 53 489  7852
+31 53 489 4470/4486  

email: r.cruzmartinez@utwente.nl

Expertise
I come from Mexico, where I completed a bachelor degree in Psychology and a master degree in Sport & Exercise Psychology. After that I worked as a sport psychologist for two years, providing mental training to young Mexican athletes from several sport disciplines.
Pursuing personal and professional goals, I came to the University of Twente to study a topic of my interest: eHealth technology. In August 2017, I graduated from the master in Health Psychology & Technology. I'm currently a PhD student for the Department of Psychology, Health & Technology of the University of Twente.
My expertise is focused on the combination of eHealth technology and self-management support, with a special interest on goal setting and its potential for behavioral change.
Research project
I was granted a scholarship from the Mexican National Council for Science and Technology (CONACYT, in Spanish) to carry out my research at the University of Twente, from 2017 to 2021. The research topic is about eHealth technology that supports self-management behaviors of non-communicable diseases with high prevalence in the Mexican population. My supervisors are prof. dr. Lisette van Gemert-Pijnen and prof. dr. Robbert Sanderman. Our approach is focused on learning from the existing body of knowledge (guidelines, frameworks, and models) to facilitate the development and implementation of effective eHealth interventions in Mexico.