The main menu above
Usually you do not have to use all options available in the main menu. Most users will only need to use  the large buttons. 
Advanced users: You find more options in the Publisher/File/Edit/Go To menu, such as a link checker, preferences, adding quicklinks to your start menu, etc.
New file: Create a file that is not located on your computer (link, new text file, etc.)
New folder: Create a new folder
Upload: Upload a file that is located on your computer (Word, .pdf, etc.)
Replace: Replace a file in WebHare with a file that is on your computer (only replace by same type of file)
Download: Download a file to your computer
View: View this file in the browser
Delete: Delete selected folder(s) or file(s)
Properties: Change the properties of a file or folder (like the name, title, description, keywords, make it the index file, etc.)
The menu of an individual site or folder (in the left screen)
If you right click a site, a folder or a file in WebHare you will get a menu  (just like using Windows). This menu can differ a bit depending on clicking a file or a folder or a site.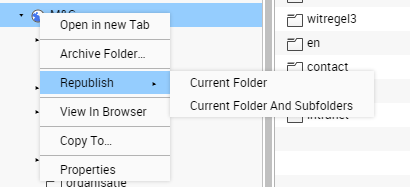 Open: Open in a new tab in WebHare to edit this file
Archive: create zip file of this folder or website and download it to your computer
Republish: Republish files on the internet (if some changes are not directly visible online, use this function to republish a whole folder or site)
View in browser:  Opens the current page in a webbrowser (e.g. internet explorer)
Copy/Move to…:  Copy or move selected file(s) or folder(s) to another folder within WebHare
Delete: Delete one or more selected file(s)


Properties: Change properties (like name, title, description, keywords, make it the index file, etc.)
The menu of an individual folder or file (in the central screen)
The right mouse click menu in the central screen has some more options, depending on what file type is selected. New buttons/options that appear here: 
Change ordering: Change the ordering of files and folders at your website (in WebHare items will always be sorted by alphabet)
Edit type: Change the type of a folder or file (e.g. a normal folder can be a photo gallery or news folder and a Word-document can be made plain text)