Project motivation: Broad-band transparent and high-mobility transparent conducting oxides (TCOs) are required to avoid parasitic absorption and electrical losses in solar cells. However, gentle deposition techniques for the TCOs are required to avoid thermal or physical damage to the substrate or layers underneath, for example, during the application of the front TCO in solar cells (figure below).
Project goal: synthesis of high mobility and wide band gap hydrogenated indium-based TCOs thin films by solution process. Films will be compared to PLD-grown films, to assess material quality, microstructure, dopant efficiency and carrier transport properties.
Tasks of MSc student: thin film synthesis, optical, electrical and microstructural characterization. Techniques: chemical bath deposition, pulsed laser deposition (PLD), UV-Vis-NIR spectrophotometer, Hall effect measurements, X-ray diffraction, AFM.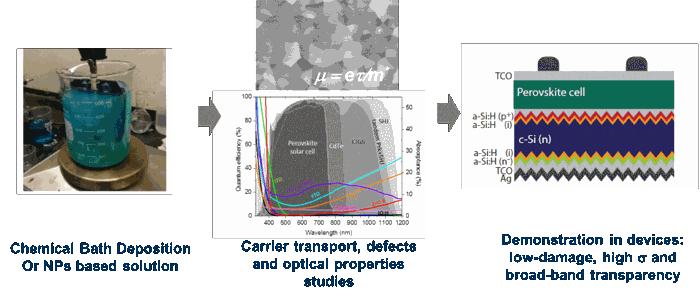 Contact:
Monica Morales-Masis, C3237, m.moralesmasis@utwente.nl, +31534891791