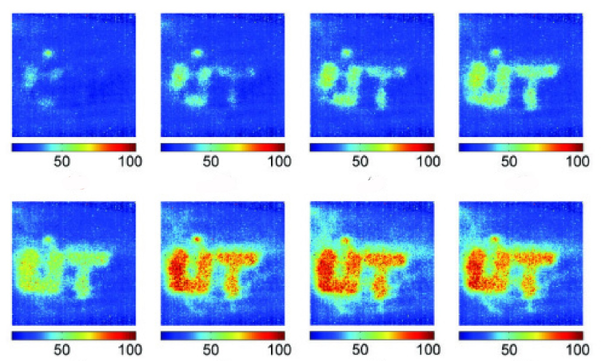 Perfusion images in time of the letters UT ('University of Twente') written with capsicum cream on the back of the hand of a volunteer.
We invite you to apply if you are a physicist and/or physics oriented biomedical or electrical engineer (MSc) interested in developing a handheld optical skin perfusion imager, as a member of a team. The team will consist of physicists and/or physics oriented biomedical engineers, experts in image processing, and clinical researchers. They will work in a consortium consisting of the University of Twente (Biomedical Photonic Imaging, and Robotics and Mechatronics), Radboudumc (Department Dermatology), hospital ZGT (Wound Expertise Centre), Martini Hospital Groningen (Burn Centre), and high tech companies Demcon, Focal Vision and Optics, Quest Medical Imaging and Cinoptics.
You will work in the Biomedical Photonic Imaging group of the University of Twente. The perfusion imager to be developed is based on light scattering in tissue, the optical Doppler effect and the phenomenon of dynamic optical speckle. You will contribute to the project goals by using/adapting theories of these phenomena, performing simulations, optical experimenting, developing specifications for the final system design and quantitative validation of realised prototypes. Your will report on your research in papers in international scientific journals, and a PhD thesis.
You have an MSc degree in (Applied) Physics, Biomedical Engineering or Electric Engineering, with a special interest in optics experimenting and simulation, and the application of light for biomedical purposes. Team working skills are essential.
Information and application
Information about the vacancy, the group and the University may be found here. Please contact Prof. dr. Wiendelt Steenbergen (w.steenbergen@utwente.nl) if you need additional information about the project.
Your application must be uploaded before the 1st of July 2016 via the link below. Do not apply by e-mail. Applications need to include a one-page motivation letter, a detailed CV (incl. obtained degrees and publications, if any), and contact details of at least 2 references.