Correcting issues
When you click on Results > Analysis, there are several reports. The Overview tab gives a general dashboard. The tab Result details contains a matrix of student results per question. The tab Analyze items can help you decide if there were any issues in the exam.
For example, a lot of students may have had an alternative interpretation for a multiple choice question, and you want to add their choice as a correct option. Or perhaps there was an error in a question and you want to remove it from the exam altogether.
The Analyze items report looks like this: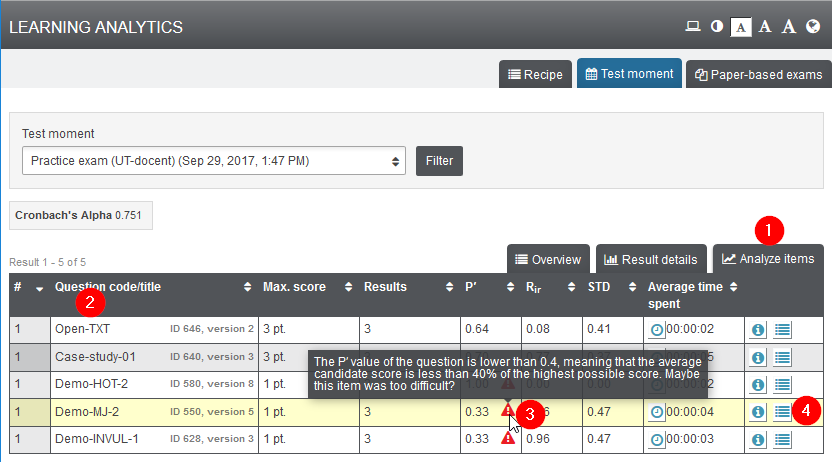 For a specific test moment, click Analyze items
Each question is identified by its numeric ID and the code that you entered when you created the question
Exclamation marks are displayed next to items the software has identified as potential issues. A tooltip explains the nature of the issue.
You can click the icon on the far right to view and change the question settings
The next page shows the frequency of answers given, and you can use the button 
to make changes. On the correction page, these are the available options: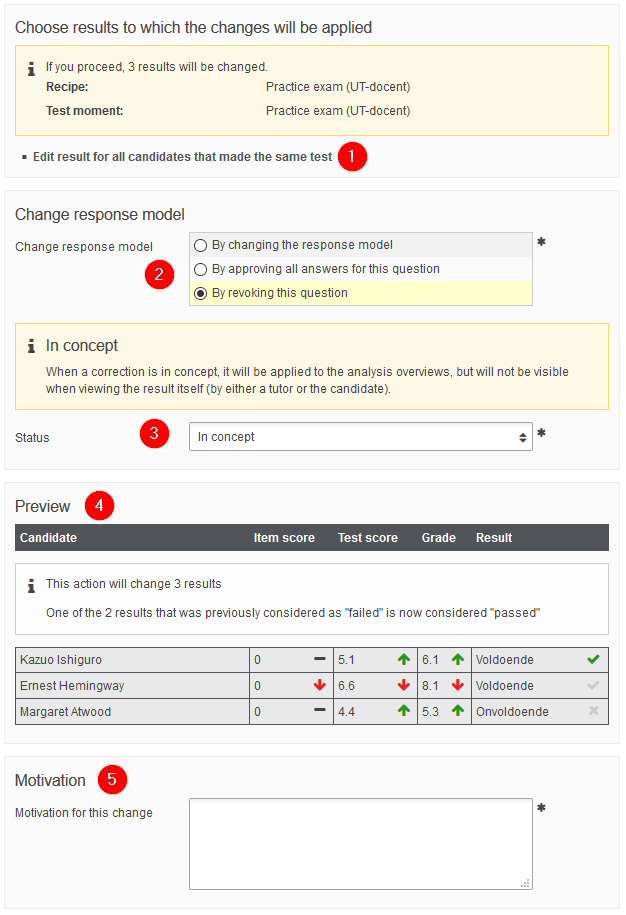 You can indicate that the current exam needs to be updated. This will generate a preview at the bottom of the page.
You can make the following adjustments:

change the response model: change the number of points, choose which answer(s) is/are correct, etc.
approve all answers 
revoke the question: the total number of points will be reduced and all grades will be recalculated

Changes can be made in concept first and approved by another person, or you can make them active right away.  
The preview shows how student results will be affected by the change.
A motivation has to be entered before submitting.
Changes are displayed on the reports pages. They can always be undone by clicking 'Deactivate this item correction':

Back to index