What is the UT Portfolio?
The Portfolio can be used to track student progress throughout their entire programme. It was developed at the UT for tracking professional skills-based assignments.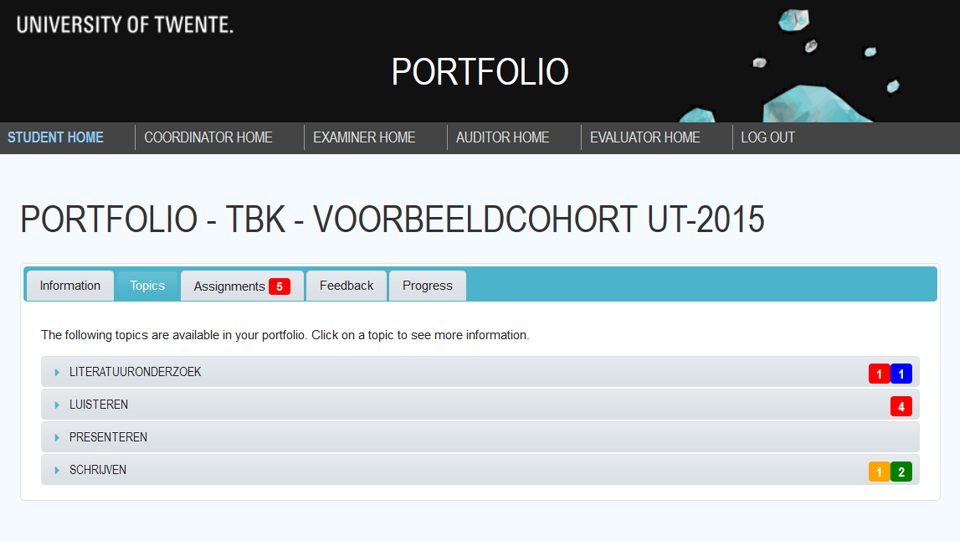 How to use Portfolio to improve education quality
You can create categories such as 'Teamwork', 'Presenting', etc. and send assignments to the students. Their results are received and graded inside the portfolio system. Reports can be exported for further use.
If students have to choose different team roles (chair, presenter, etc.), you can use Portfolio to ensure that each student has performed the required number of roles by the end of their Bachelor.
Achievements in the study domains (leerlijnen) can be tracked.
Students can receive a report to demonstrate to future employers that they have actively developed certain business skills.
Examples
The attached file contains screenshots of the main screens.
The following video provides more detailed information on the portfolio system (in Dutch)

Other users
The Portfolio was developed by the faculty BMS and is also being used by ATLAS. CTW and ITC are working on implementation. 
Availability
Any programme at the UT can apply. Please see contact details below. 
Contact
For all questions, please email portfolio@utwente.nl.