Choose the suitable remote assessment method
Changing a course from face-to-face to online teaching poses particular challenges. One challenge will be finding a suitable way to assess your students. Below you find a 'decision scheme' to help you with this challenge. Additional we present points to consider when remotely assessing students and advice on how to keep your assessment valid, reliable and transparent. The final part of the guide offers more elaborate explanations on various assessment methods, including the advantages and disadvantages. Keep an eye on the TELT-site for updates and more information.
This guide has been drawn up most of all with the lecturers in mind who work with large groups and used to test by means of written tests with open or closed questions. 


| | | |
| --- | --- | --- |
| | Important: if, as an examiner, you want to adjust your assessment, check what the current procedure is for adjusting the assessment for your own study programme. What freedom do you have as an examiner in the current situation? In the event of drastic changes, coordination with and permission from the programme director and/or examination board  will be necessary in advance. At institution level a committee has prepared a UT Framework for remote assessment. Look  [here] for this document. | |
If you're wondering which specific tool to use (like Canvas Quiz or Assignments or Remindo), this flowchart may help; click on the picture left.   

 Click on the scheme below for a (larger) PDF version.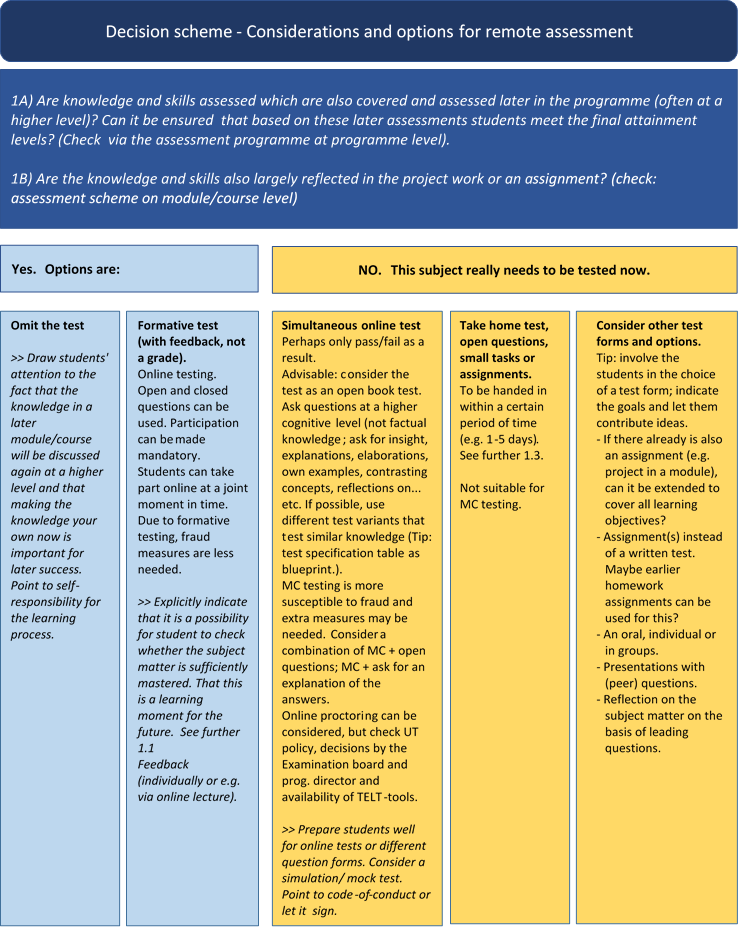 This website is created by CELT/TELT (University of Twente). With permission, grateful use has been made of ideas and texts from Y.P. Hsiao (Tilburg University) and G.A. van de Watering (Eindhoven University of Technology).
Some points of concern when choosing a remote assessment method
We all need time to get used to the new situation; not getting discouraged and success experiences are essential for students, teachers and everyone involved in education. Right now, it is essential to keep an eye on the essence of a programme (and module/quartile) on the one hand versus using a dose of realism and pragmatism on the other hand, and this will sometimes lead to concessions. Maybe as guiding principle for now: If it can't be done in the best way, then for now the best way is how it can be done.
Keep an eye on the bigger picture and the final qualifications. What is the essence of a specific test within a larger framework? Is the test used to make important decisions about the individual students? Are knowledge and skills assessed that are also covered and assessed further on in the programme (often at a higher level)? Will the assessment in a later phase provide enough confidence that students meet the final attainment targets?  Is it possible to omit a certain test or to use it in a formative way? The assessment programme at programme level can provide insight. Are the knowledge and skills also largely assessed in the project work of a module or another assignment in a course? Or could this be the case with some slight adjustments? A test plan at module/course level provides insight.
Students need to be accurately informed about every new course of action. Especially when it comes to assessment. But let's certainly not forget that we can also actively involve the students.  They can think along with us about other forms of assessment based on learning objectives and attainment targets. 
Preventing and detecting fraud is important in order to make a well-founded, reliable statement about someone's knowledge and skills. Although 'fraud' receives a great deal of attention in the following texts, it should not be forgotten that committing fraud is certainly not common practice and that the majority of students can be expected to act honestly and ethically. They are also keen to acquire sufficient knowledge and skills to be able to start a further education or a job market. 
Considerations - Keeping the quality criteria in mind
Validity. The assessment method should be appropriate to assess the achievement of the learning objectives. The learning objectives should be covered. Considerations:
o    Can you also assess your learning objectives differently?
o    Do you assess at the same level or another (higher) level when you use a different
      assessment method?
o    Is it possible to extend a test within one module so that multiple learning objectives
      can be tested together or integrated that were first assessed separately?
A test plan and test specification table (examples) will help to gain insight into how learning objectives are assessed and with which alternative forms of assessment it is possible to assess (almost) the same learning objectives.

Reliability. How can you ensure that the assessment is as reliable as possible, that the marks obtained are a good reflection of the student's level? How consistently and objectively are the results assessed? Is inter-rater reliability ensured if there are multiple assessors?
o   An important point of attention in remote assessment is the susceptibility to fraud.
     How can preventive measures be taken to increase reliability? What can we do to
     check whether fraud takes taken place at the time the test is taken? How can we
     detect fraud based on the results afterwards?
o   What degree of uncertainty about the reliability do we accept in the remote
     assessment? 
Efficiency. The chosen assessment method should be feasible from the teacher's perspective. The time required for reviewing the work of the students should be do-able. Efficiency and the concern for high reliability can sometimes be at odds with each other.  Considerations:  
o    Can additional assessors be used?
o    What are the optimal or maximal numbers for a particular assessment method?
o    How does the test-taking time relate to the reviewing time? An oral test for a larger
      group of students takes a lot of time, but is probably more reliable than an online
      multiple choice test and it will not need a lot of time to assess written work
      afterwards. 
Transparency. If the students are not familiar with the new assessment method, it is essential that the procedures and expectations are accurately explained (e.g. in a video) and that examples are made available. This also applies if the questions will be asked at a different level than would normally be expected. Make sample questions and if possible, discuss these questions online with the students.
Technical possibilities and potential technical problems. When using online options for assessment, technical problems can occur on the system side, but also every individual student can encounter technical problems. It is important to consider how to deal with these problems in advance. What will be alternatives for students who will encounter problems? Could, on an individual and incidental basis, an oral test be used? A special point of attention is the facilities for students with special circumstances. How can these students be accommodated?
Recommended: Use only the existing systems supported by the UT (see TELT website). Students are more often already familiar with these systems and support is available. For systems that are 'public', alienation of data and privacy issues are an issue.  
More detailed explanation of the different assessment methods
In this section we provide a quick overview of different remote assessment methods to help you choose. The options are not exhaustive and combinations are possible.  When you want to discuss what will be a good choice in your specific situation, you can contact the CELT educational advisor in your faculty. If your questions are about technical possibilities, the e-learning specialist or members of the TELT-group can support you.    
The information we present next will be updated regularly. For example, a new tool may become available or we have additional tips & tricks, based on experiences form teachers.  

NB. In the descriptions below, no attention is paid to facilities for students with special circumstances. As before, attention will have to be paid to these facilities as well. If necessary, the use of an alternative test form may be considered for specific circumstances. At the moment (31-3-2020) many study programmes offer tailor-made solutions. Work is being done to collect possible solutions and good practices
How to... guides for the design and execution of various online exams
Good practices and experiences of other examiners
Examiners share there experiences and good practices in a Canvas-course.
See this website for more information and share your experiences, suggestions and good practices!
https://www.utwente.nl/en/telt/online-lectures/#share-your-experience
If you are an examiner and have questions or you like some support, you can contact:

for choosing a tool and technical issues

The e-learning specialist(s) in your faculty  //  Specialists from TELT

for helping you to choose a suitable assessment option in relation to you learning objectives and education process

The CELT educational advisor in your faculty. See for names and contact information:   https://www.utwente.nl/en/ces/celt/who-we-are/ 

for assistance with the design of the test or assignment, for constructing the questions, for developing criteria and rubrics etc.

The CELT educational advisor in your faculty. See for names and contact information:   https://www.utwente.nl/en/ces/celt/who-we-are/