Choose the suitable remote assessment method
Changing a course from face-to-face to online teaching poses particular challenges. One challenge will be finding a suitable way to assess your students. Below you find a 'decision scheme' to help you with this challenge. Additional we present points to consider when remotely assessing students and advice on how to keep your assessment valid, reliable and transparent. The final part of the guide offers more elaborate explanations on various assessment methods, including the advantages and disadvantages. Keep an eye on the TELT-site for updates and more information.
This guide has been drawn up most of all with the lecturers in mind who work with large groups and used to test by means of written tests with open or closed questions. 


| | | |
| --- | --- | --- |
| | Important: if, as an examiner, you want to adjust your assessment, check what the current procedure is for adjusting the assessment for your own study programme. What freedom do you have as an examiner in the current situation? In the event of drastic changes, coordination with and permission from the programme director and/or examination board will be necessary in advance.  | |
If you're wondering which specific tool to use (like Canvas Quiz or Assignments or Remindo), this flowchart may help; click on the picture left.   

 Click on the scheme below for a (larger) PDF version.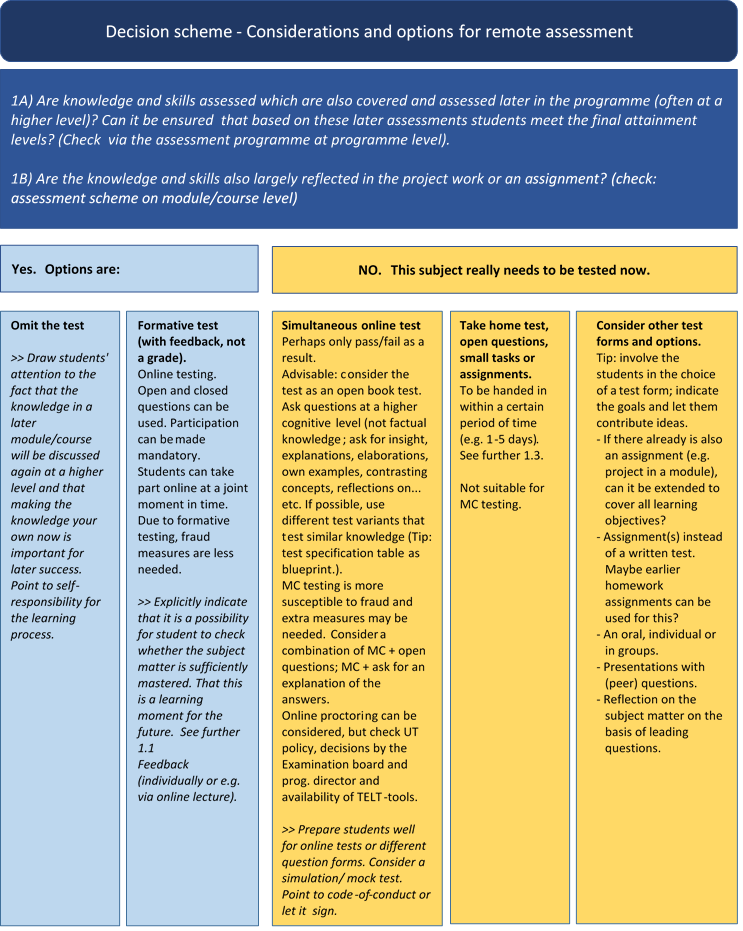 This website is created by CELT/TELT (University of Twente). With permission, grateful use has been made of ideas and texts from Y.P. Hsiao (Tilburg University) and G.A. van de Watering (Eindhoven University of Technology).
If you are an examiner and have questions or you like some support, you can contact:

for choosing a tool and technical issues

The e-learning specialist(s) in your faculty  //  Specialists from TELT

for helping you to choose a suitable assessment option in relation to you learning objectives and education process

The CELT educational advisor in your faculty. See for names and contact information:   https://www.utwente.nl/en/ces/celt/who-we-are/ 

for assistance with the design of the test or assignment, for constructing the questions, for developing criteria and rubrics etc.

The CELT educational advisor in your faculty. See for names and contact information:   https://www.utwente.nl/en/ces/celt/who-we-are/