Friday 10 July 2020
DesignLab donated one thousand special clips to the Enschede hospital MST today to reduce the physical burden of wearing mouth masks for doctors and nurses. The UT and the MST have worked closely a lot in the fight against the coronavirus crisis.
DesignLab's manager Miriam Iliohan handed the boxes with clips over to Marc Eijsink, team leader of MST's Intensive Care.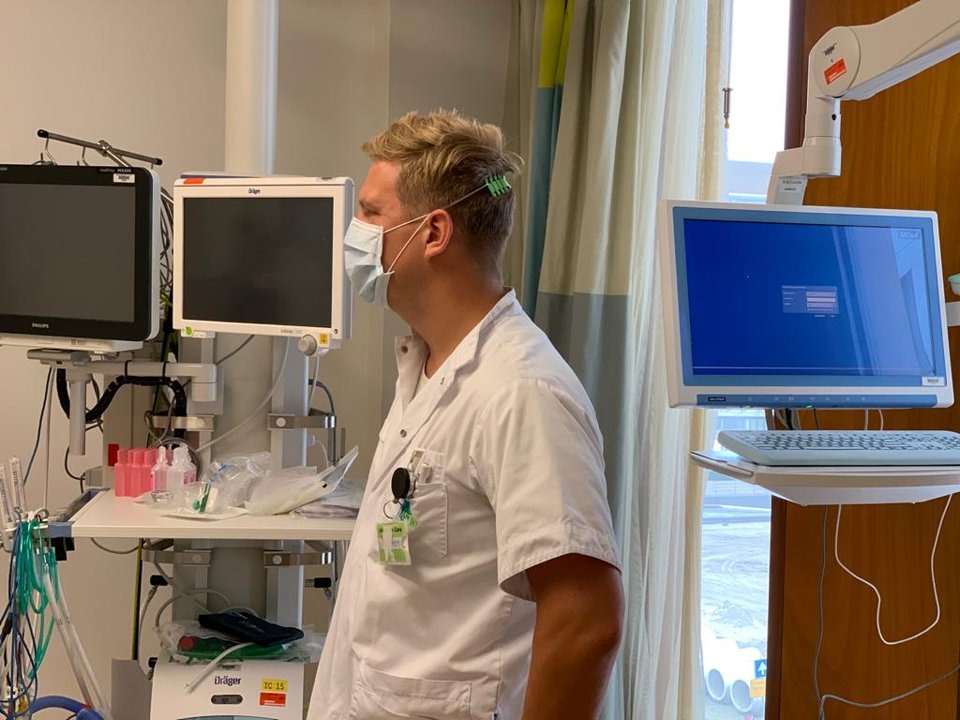 A nurse of MST shows how the clips are used in the hospital
SMALL ADJUSTMENT, BIG DIFFERENCE
The elastic loops attached to the face masks are meant to be tucked behind the ears, which can become painful after a while. The mask's elastic loops can now be hooked onto the clip, stopping the ears from getting sore. Small adjustment, big difference, the Intensive Care doctors and nurses agree. "All tools that help us work more ergonomically and lighten the load on our colleagues are very welcome", adds Marc Eijsink. 
DesignLab is delighted to contribute to the wellbeing of care staff, says Sabine Wildevuur, director of DesignLab. "MST is an important regional partner and we are committed to offering support." 

The clips were produced with DesignLab's 3D printers by technician Erik Analbers, who was keen to pitch in during this pandemic. The clips are reusable and easy to clean. The MST will now be able to make clips available for medical staff on all COVID wards and the Intensive Care in the event of a new COVID-19 outbreak.

WORKING TOGETHER AGAINST CORONAVIRUS
DesignLab is an ecosystem for transdisciplinary collaboration and creativity with the aim of applying science to challenges in society. Firmly embedded in the University of Twente, DesignLab works together with partners from the business community, (semi) public sector and citizens. Ethical, sustainable design methods ('responsible design') and engaging citizens in science are central themes.
Various locations within the UT are working on solutions for the consequences of the coronavirus outbreak. For example, TechMed Centre has already developed a new type of respiratory mask. DesignLab also took part in a European hackathon, with a UT student team winning a prize for the mentor.me app. What's more, the UT is involved in the development of a national COVID-19 app that warns people when they have been in contact with a corona patient. Groups of Twente residents tested this app at DesignLab last week.