Friday 18 February 2022
The Army's Materiel Logistics Command will work more closely with civilian partners on the maintenance of the future. Together with World Class Maintenance (WCM), the University of Twente (UT), and the Netherlands Defence Academy (NLDA), it has signed an agreement to work together on maintenance innovation and a maintenance learning line.
For ten years, these parties have been working together on maintenance innovation and learning lines with mutual satisfaction. With this step, they are joining forces to focus even more strongly on the further development of these. This is in line with the vision of the Ministry of Defence to be a smarter, technologically advanced organization with more integration of people and technology by 2035.
This requires knowledge. Preferably in a continuous learning line from college via vocational college to applied and academic University and scientific research, which is in line with a 'life long learning'.  This collaboration will stimulate new education and research programs and strengthen existing ones. The University of Twente, NLDA, and FME trade association World Class Maintenance are contributing to this.
Brigadier General Ronald Rietbergen, commander of the Materiel Logistics Command (MatlogCo): "The maintenance learning line is very important for Defence, most innovations no longer come from Defence but from civilian parties, which makes our people and the product we make better."
The WCM Summer School that is co-facilitated by Defence and in which the mentioned parties already work together is already a good example of this. In the future, this will also run through the Land Technology Center of the Army, where internal knowledge of asset management from the Faculty of Military Sciences of NLDA will be bundled with external knowledge from the University of Twente and World Class Maintenance.
Colonel Peter van Iersel, project leader Technology Center Land: "The intended collaboration is short-cycle and innovative to find robust, agile and sustainable solutions to operational issues for the future."
Other examples of collaboration include the Young WCM innovation program, the UT Master Class Engineering & Management, custom-developed master classes, and Maintenance field labs in cooperation with Technology Center Land.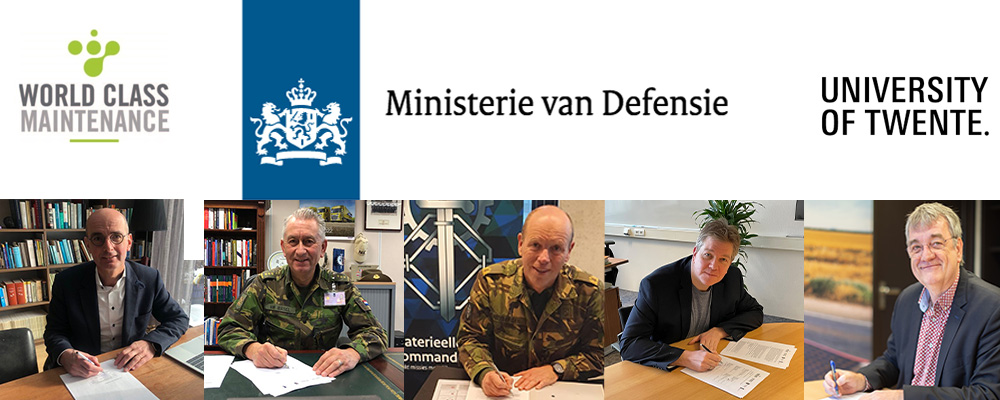 Prof. dr. H.A. Akkermans (WCM), Colonel P. van Iersel (Defensie/TCL), Brigadier General ir. drs. R. Rietbergen (MatlogCo), prof.dr.ir. P.J. Oonincx (NLDA), Prof.dr.ir. H.F.J.M. Koopman (University of Twente)