Thursday 7 September 2023
Two UT projects have a chance to win KIJK's Best Tech Idea 2023. UT-VU Student Team RISE is nominated for their reusable biofuel rocket. HeartSafe by Dr. Derya Demirtas is also nominated. HeartSafe is a smartwatch that detects cardiac arrest outside the hospital. It is now possible to cast your vote.
A jury from the magazine KIJK put forward 20 recent technology developments. These tech ideas came from universities, as well as startup companies. Two of the 'Best Tech-Idee 2023' candidates are from the University of Twente. KIJK magazine has a long history in popularising science: more than 50 years, the first years of which even as a weekly magazine.
Reusable biofuel rocket
Mechanical engineering students Nathan Jacques and Alexander Nieuwland set up a rocket society with a handful of fellow students in 2019: RISE. Recently, the team became an 'official UT student team' and has grown to a club of 28 students. Their ambitions are sky-high and the sky is definitely not the limit in this respect. Although their goal is not so much height, but a precise landing: "We are working on a rocket that runs on biofuel and that we can send back to earth very precisely for a soft landing. This will make it possible to reuse the launched vehicle."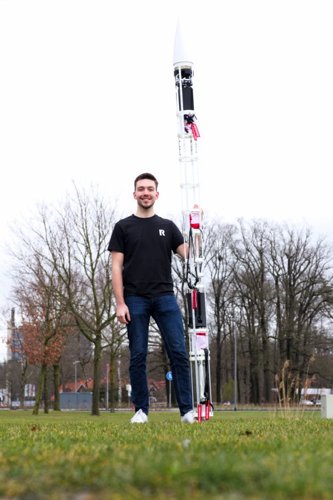 Smartwatch detects cardiac arrest
In the Netherlands, 17,000 people suffer cardiac arrest outside hospitals every year. Dr. Derya Demirtas, an associate professor at UT, is looking for a solution in the millions of people in the Netherlands who wear smartwatches. "We are working on a smartwatch that can automatically and reliably detect a cardiac arrest outside a hospital while immediately calling the emergency services. Our solution will significantly reduce the time elapsed before cardiopulmonary resuscitation (CPR) is given, potentially saving thousands of lives a year and reducing neurological damage."