Thursday 4 October 2018
Electric Superbike Twente has won their very first season in the MotoE. The final two races at Anglesey were won by rider Thijs Peeters, which was enough to win the MotoE championship of 2018.
The team, consisting of students from the University of Twente, had their Liion-GP tuned top notch. "We were able to ride all sessions, with almost no technical issues. Therefore we were able to improve our lap times drastically during the weekend", concludes rider Thijs Peeters.
Other teams in the MotoE had a lot more technical difficulties. Therefore, the Twente based team was already leading the championship by a big gap. Just finishing would have been enough to win the championship. "Of course we want more. More speed, faster lap times. Every session, either training, qualifying or race, we adjust our settings. That is why we become faster every time", says Powertrain manager Jeroen Goudswaard.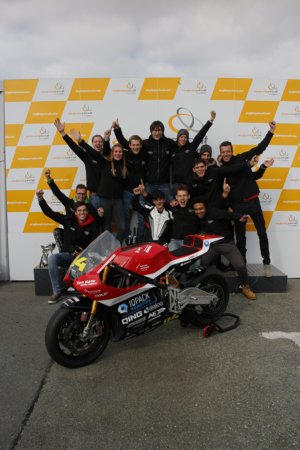 Team manager Tim Veldhuis is proud: "It has been an unbelievable year for us. We have shown the world that it is possible to design, build and race a fully electric racing bike in just 12 months. Winning is nice, but we are not done yet. The development of version 2 has already started. See you next year!"  
Multimedia can be found at superbiketwente.nl/media. A video of the race can be found at the YouTube-Channel. For questions, interviews or a visit to the Future Factory: Tim Veldhuis (Team manager)
t.veldhuis@superbiketwente.nl or +31(0)6-53 45 36 97.