Helping children moving forward
Children with brain damages (Cerebral Palsy) suffer big problems with mobility. Dr. Cristina Bayón-Calderón is developing a lightweight device that improves their moving and walking ability in daily life situations.
Cerebral Palsy (CP) refers to a group of neurological disorders that appear in infancy or early childhood and permanently affect body movement and muscle coordination. The first time that Bayón-Calderón met children with CP, she was doing her PhD at the Spanish Research Council (CSIC) in Madrid. There, she worked on the development of a so-called CPWalker, an exoskeleton that supports walking rehabilitation. 
Three minutes
An encounter with two children with CP several years ago had a big impact on both the person and the scientist Bayón-Calderón. "They were twins, both with CP, but the girl was much more affected than her brother because she was born three minutes later and got less oxygen during birth. Walking and talking were very difficult for her. I've experienced that what you develop as an engineer can be helpful for people, in this case for young children. That is still my motivation."
Gain training research group
Bayón-Calderón came to Twente during her PhD in 2017, when she carried out a research visit at the Department of Biomechanical Engineering. "I had read about the LOPES project of Herman van der Kooij and Edwin van Asseldonk, the Lower extremity Powered Exoskeleton to enhance gait training in post stroke patients. I liked so much the group, and after finishing my research visit, I agreed with Herman and Edwin to start a position as a postdoc. My focus on children with CP is a significant addition to the gait training projects of the research group."
Reach the heart of people
In 2020, Bayón-Calderón received a VENI grant of the Dutch Research Council NWO for developing a light-weighted and compact device to improve gait performance of children with CP in daily life situations. "I was both surprised and happy that I got the grant", she says. "My first aim was to apply and learn from the process so that it could serve me to apply for other grants. But when I got selected to the last round, I was confident that I would win the grant. Why? Because I can reach the heart of people with my research. It's visible. Even if you know nothing about robotics, you can understand that there is a high impact of these technologies for the final user: improving walking and thereby life of children with CP."
Motivating children
The device Bayón-Calderón is working on in her project 'inGAIT', can be considered as a follow-up on the CPWalker, which is meant for rehabilitation in the clinic. "I saw that the CPWalker had a good effect on children on short term. But when children finish their treatment at the clinic and do their normal things at home, they encounter a relapse. The exoskeleton is too heavy and the technology is too complicated to use in daily life. With inGAIT, I want to provide a solution that is lightweight and easy to use at home. That's quite a challenge, because it must be able to adapt to changes in speed of playing children. Another challenge is that adults understand what is good for their rehabilitation, but with children, you really need to motivate them, otherwise, they prefer playing video games on the couch. A way to increase their motivation is to use competition and games, and also to involve them into the therapy. I really like that".
TechMed Centre
The facilities of the TechMed Centre will be helpful for the researchers, according to Bayón-Calderón. "The University of Twente is closer to society than more technical universities I have discovered. It's a very good fit for me. I want to create impact on people, on users of technology. I want to see the end effect of my research. The TechMed Centre has a laboratory for daily activities, with a kitchen, a living room and other facilities. Here we will test our device for children with CP in a realistic environment."
Education and research
The VENI research project of Cristina Bayón-Calderón starts in 2021 and will last three years. It's an international collaboration with research institutes and clinics in Spain and The Netherlands, including Roessingh Center for Rehabilitation, Sint Maartenskliniek and UMC Amsterdam. An exchange of master students and PhD's of Twente and Madrid (Spanish Research Counci) is also part of the project. "It's important to spread the work and that these students learn what the impact of this technology is on people with motor disorders."
About Cristina Bayón-Calderón
Dr. Cristina Bayón-Calderón (1990) is postdoctoral researcher at the Department of Biomechanical Engineering at the University of Twente since 2018. She was born in Spain and studied at University of Extremadura (Spain) and at VIA University College (Denmark) to receive the double degree in industrial and mechanical engineering in 2013. In 2018, she received the PhD. Degree with honors in electrical, electronics and automation engineering from the University Carlos III of Madrid. It was awarded by the Economy and Competitiveness Ministry of Spain. Bayón-Calderón received a VENI Grant of 250,000 euros in 2020 to develop a device for children with CP.
Press Photos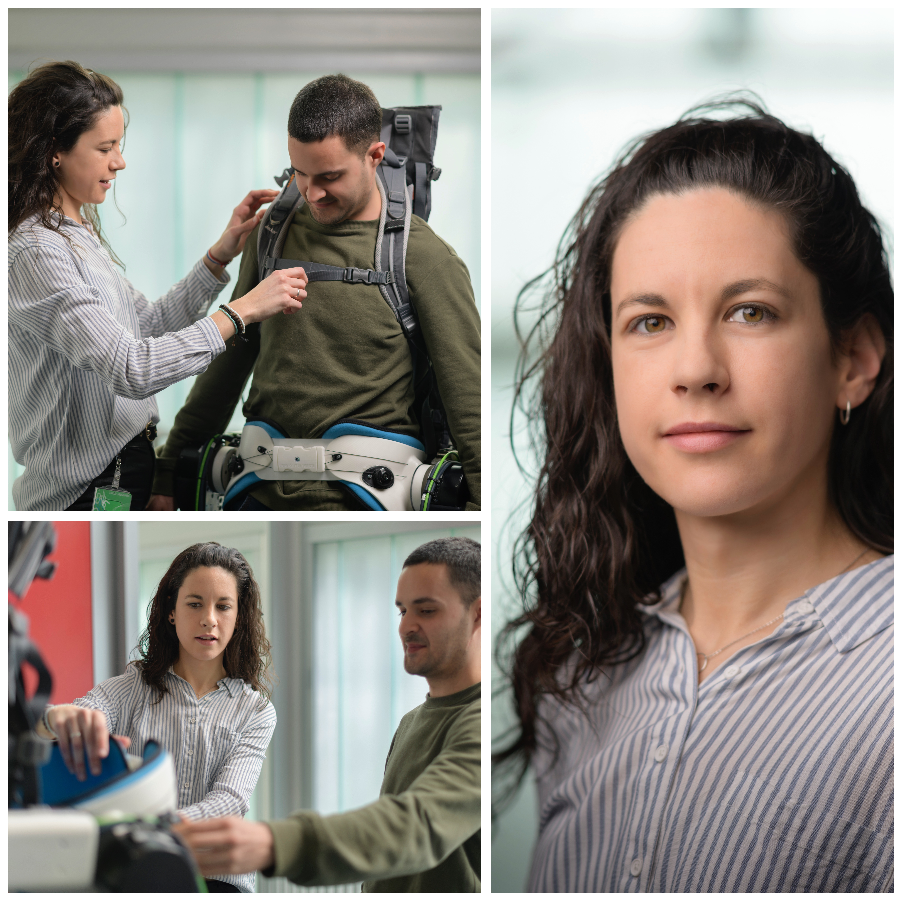 Click on thumbnails to open the picture folder. These press photos can be used without copyright restrictions.