How we can learn from Frankenstein's monster
The new generation of technology has a major impact on our daily thinking and actions. For this reason, philosopher of technology Peter-Paul Verbeek investigates and evaluates technological developments from the design phase.
Verbeek likes to make a reference to Frankenstein, the novel and film character who created a monster and was so frightened by it that he ran away. Something similar is about to happen in real life. In recent years, scientists have developed technology that could easily turn against us. Here is work to do for the philosophers of technology. "Frankenstein failed in guiding his monster into society. We should not make the same mistake."
Responsible design
We currently live in the fifth society, Society 5.0. The fourth revolution has created a smart society in which the intelligence of machines is increasingly blending with the intelligence of humans. "Until now, humans have considered technology mainly as a tool. But now technology is in our bodies, for example in implants. Technology changes our perception, such as through augmented reality. Technology affects the way we communicate. All this raises new ethical questions about responsibility, mortality, autonomy, and freedom."
For Verbeek, it's all about how to embed technology into society in a responsible way. Part of the answer lies in the Design Lab at the University of Twente, which he co-founded. In this lab, he gives an interpretation of the concept of responsible design. "We do this not only interdisciplinarily, but also transdisciplinarily: with partners in society. Our research focuses on how we can involve citizens as early as possible in the design phase. It is more than just taking into account the user and preventing accidents. We put society in the first place from the very beginning. Citizen science, as we call it, is one of the main themes within the Design Lab."
CoronaMelder app
Citizen ethics follows on from this. The principle is that in addition to the experts, 'ordinary' citizens should also contribute to the formulation of ethical rules of play. The handbook 'Guidance ethics approach' co-authored by Verbeek should help them to ask the right questions. A concrete application of this approach is the CoronaMelder app, which was developed by the Dutch Ministry of Health, and for which Verbeek did the ethical assessment. He not only called in experts but also a panel of citizens to arrive at a responsible version. The results surprised even the philosopher of technology. "The experts were especially keen on privacy and autonomy. Is the app secure enough? Won't this give us a Big Brother state? For the citizens of the panel, that was not an issue at all. Their point was solidarity and not individual freedom. They were fine with sharing their location or opening up their address book in the fight against corona. Without these functions, they wouldn't even use the app." 
You can't separate humans from technology, is Verbeek's belief. "They have never been in opposition to each other and are fundamentally intertwined. In Twente, social and technical scientists have been working together since the start of the university 60 years ago. All disciplines here are aware of this interconnectedness."
Research and Education
Peter-Paul Verbeek is responsible for the RESTS education of the University of Twente, which stands for Reflection on Science Technology and Society. All students, from mechanical engineering to psychology, are taught about the interaction between science and society. "Technicians learn how to do their jobs responsibly in the future. Social scientists learn that you have to include technology to understand society or people."
Verbeek is also active as a teacher. He teaches human-technology relationships within the master's program Philosophy of Science Technology & Society, teaches philosophy of technology and design to electrical engineering students, and provides a teaching module on the fourth revolution to students of Industrial Engineering & Management. Verbeek gives also lectures on integrity (Research Ethics) to all PhD students in Twente.
About Peter-Paul Verbeek
Prof. Dr. Peter-Paul Verbeek (1970) is a Distinguished Professor of Philosophy of Technology at the Department of Philosophy at the University of Twente. He is chair of the Philosophy of Human-Technology Relations research group. Furthermore, he is co-founder and scientific co-director of the Design Lab at Twente University. Verbeek is chairperson of the UNESCO World Commission on the Ethics of Scientific Knowledge and Technology (COMEST). This commission with eighteen experts from around the world advises on current topics such as the Internet of Things, robotics, and artificial intelligence. Verbeek is also a member of the KNAW, vice-chair of the board of the Rathenau Institute (which advises parliament in the area of science, technology, and society), and member of the Supervisory Board of TNO.
Press Photos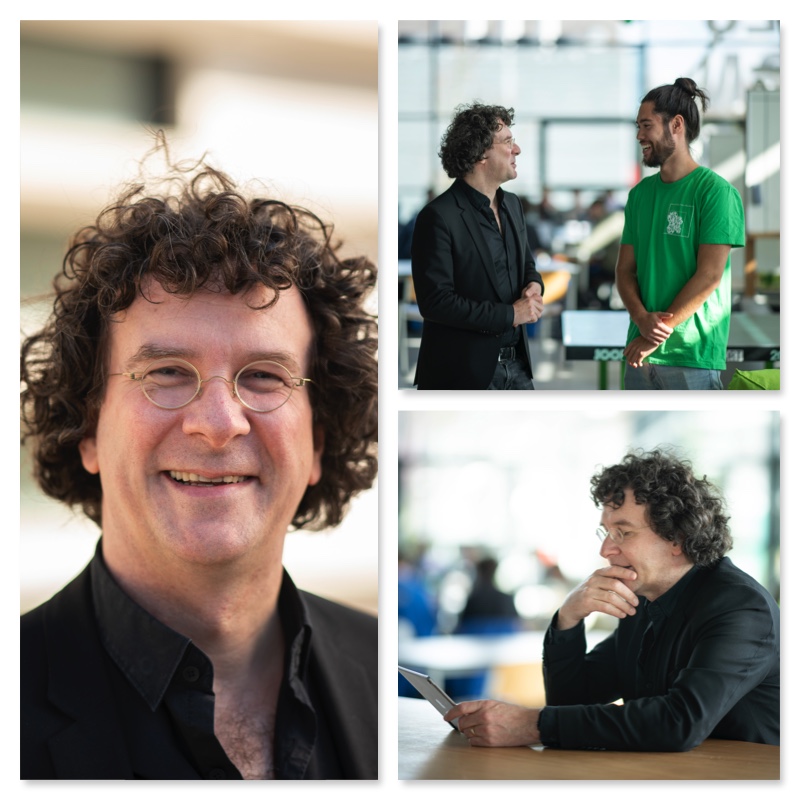 Click on the image to get to the photo folder. These press photos may be used free of copyright limitations.