Thursday 24 May 2018
The University of Twente and Continental Reifen Deutschland GmbH are working on a new process to recycle car tyres. This fast pyrolysis process is able to decompose used car tyres at high temperatures in a matter of seconds, generating valuable materials and fuels to produce new tyres.
Each year, more than 1 billion tyres are replaced worldwide. Together, these tyres contain 4.4 million tonnes of valuable products such as soot ('carbon black'), metals, fuels, and chemicals. Recycling used car tyres can contribute to a more sustainable society. In addition, this process has less impact on the climate than the production of car tyres based on entirely new materials.
Energy technology and materials engineering
The University of Twente and Continental are collaborating to develop and test the new innovative fast pyrolysis process. The project is co-funded by the Materials Innovations Institute (M2i). Two UT PhD students, who work in two different departments of the Engineering Technology faculty, are involved in the project. "This collaboration between energy technology and materials engineering became the basis for the new breakthrough," according to project leader professor Gerrit Brem of the Thermal Engineering department.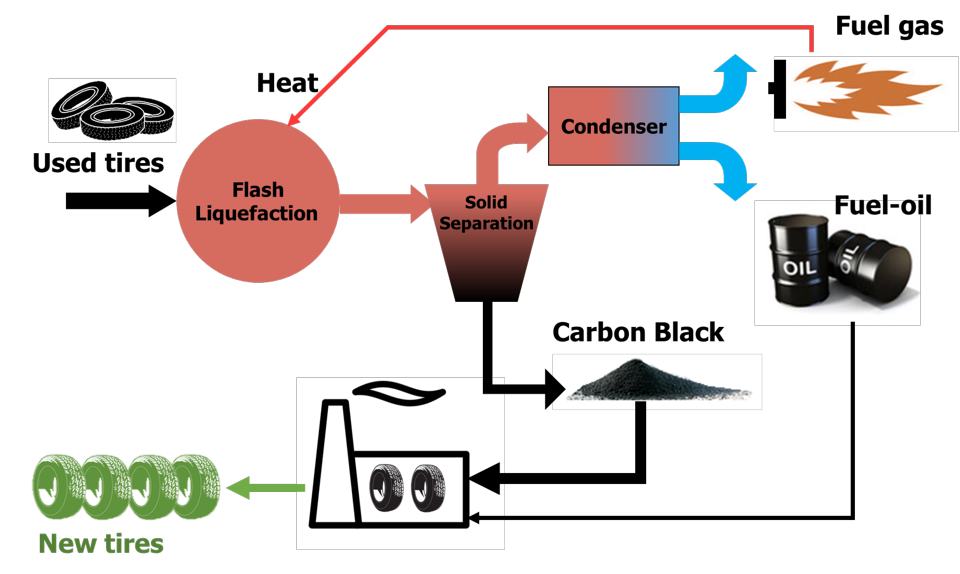 Carbon black, fuels, and chemicals
"A successful development means that the new pyrolysis process contributes to a high percentage of recycled tyres and other rubber materials in cradle-to-cradle cycles for sustainable car tyres," says dr. Wilma Dierkes of the Elastomer Technology & Engineering department. Recycling car tyres presents many advantages, both in the EU and globally, for material recovery such as carbon black, fuels, and chemicals.

Suitable for different waste flows
The fast pyrolysis process is also capable of converting other waste flows into valuable materials. Consider fuels and minerals from paper sludge, carbon fibres from transport and industrial composite waste, or glass fibres from disassembled boats or wind turbines. This provides a boost for the circular economy, so that both the energy and the material cycles can be closed.  
If you are interested we can further discuss the pyrolysis process and what it can do for your organisation. In that case, please contact project leader professor Gerrit Brem of the Thermal Engineering department on g.brem@utwente.nl