In this thesis the potential of using synthetic peptides is demonstrated in the design and improvement of biomaterials. Crucial in this approach are growth factors. These are hormone-like proteins, capable of stimulating cellular growth, proliferation, healing, and cellular differentiation.




Orthopaedic injuries were central in this study, Joao Crispim explains. 'Tendons and ligaments play an important role here. Because they are poorly vascularised they have a low healing capacity. After surgical intervention, damage done often exceeds the natural ability to repair.'




Growth factors are crucial, to improve the integration of implants into tissue, and in the activation and regulation of several cellular functions during the whole of the healing process. Novel delivery systems are essential in the development of strategies to improve the healing process. This thesis describes new strategies to immobilise and deliver growth factors.




Joao: 'Knowledge from different areas of expertise needs to be integrated such as: chemistry, surface and interface chemistry, cell biology, biomedical engineering and clinical practice. A new strategy to immobilise and deliver growth factors is presented. Peptides that interact with TGF-β1, BMP-2, and VEGF have been synthetized and covalently immobilised onto biomaterials.'






Tendons are indispensable for allowing free and smooth movement, and ligaments contribute to the stability of the bones, Joao further explains. 'In my work the clinical situation was leading, directing my study objectives,' he says. 'Efficient treatment, faster recovery and patient friendly strategies always served as a starting point. Collaboration with University Medical Centre Utrecht accounted for this demand-driven approach.'
Bioactivity
The peptides on the biomaterials studied here, capture the growth factors as these are 'anchored' onto the functionalised surfaces, and deliver them site-specifically in the right cell environments.
'The interaction of the aforementioned peptides with the target growth factors has been confirmed,' thus Joao. 'Also the bioactivity of the immobilised growth factor has been demonstrated.'
Immobilised hTGF-β1 have led to the activation of the signalling pathway and upregulation of collagen production in human hamstring derived cells; an upregulation of ALP content has been observed in response to the immobilised hBMP-2; and immobilised hVEGF has enhanced survival and proliferation of cultured HUVECs.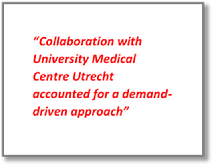 Rats
'Just before finishing my PhD project first results of in vivo experiments using rats became available,' Joao is happy to say. When implanted subcutaneously in rats, implants functionalised with the growth factor binding peptides, captured the endogenous target growth factor. These accumulated around the implant, which ultimately led to a more pronounced tissue response when compared with the negative control.
Joao: 'The results presented in this thesis clearly demonstrate the potential of using synthetic peptides in the design and improvement of biomaterials, providing them with the potential to capture and immobilise growth factors and thus accelerate the healing process.'
Mira and Mesa+
Two promotors from two research institutions at the University of Twente guided Joao's work: Professor Daniel Saris (MIRA, Reconstructive Medicine, RM) and Professor Pascal Jonkheijm (Mesa+, Molecular Nanofabrication, MNF).
'After a bachelor on Biological Engineering and a master on Tissue Engineering, both in Portugal, the chemistry part of the PhD work was the most new to me,' Joao shares. 'The lab work at MNF was exciting: synthesizing, purifying and characterizing the peptides. For the first time synthesizing a peptide was an early milestone in my PhD project. At Mira, the cell experiments were equally challenging. Confirming the immobilization and bioactive response within cells on the growth factors, also was a fantastic feeling.'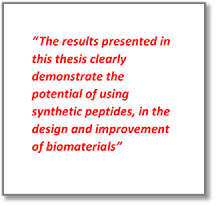 Post-doc
Joao plans to continue his work as a post-doc on this very same subject. 'A patent is granted, and now we strive to validate the effectiveness of the method in real patients,' he says. 'In order to do so we are building a network including the University of Hong Kong and MAYO Clinic Research (USA). We hope to translate this technology unto these universities and bring effective treatments closer to market. I am really motivated to give it the best chance possible.'