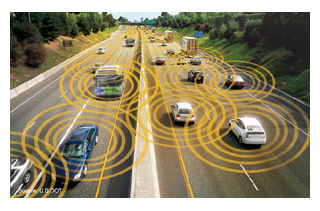 Bron: HAN Automotive Research
ABSTRACT
A next step in technological developments to alleviate traffic related problems is called Talking Traffic. Vehicles communicate directly with infrastructure, other road users, and vice versa. The potential to reduce congestion is large, because traffic can be managed more directly and more individually using new communication functionalities. To reach this potential, Talking Traffic relies largely on (big) data already available in modern cars: data from sensors, processors, navigation devices, cameras, etc. 
One important problem using this type of data is that data quality is not clear and may vary between car-brands and car-types. Existing programs of RAI, the Ministry of Transport and the Environment (Beter Benutten) and DiTCM round tables also have emphasized this issue. The VIA NOVA project addresses the quality of the data from cars by setting up requirements with respect to accuracy, latency, quantity and frequency of this data. In VIA NOVA the following issues are researched: 
· quality and quantity of data from cars 
· required quality and quantity of data from cars in Talking Traffic use cases 
· big data analysis tools to interpret large quantities of data 
· business models, privacy and security of data from cars 
The project will result in the development of a generic strategy and toolbox in which the specific data quality and quantity are related to the potential use within Talking traffic. The outcome will enable users (talking traffic service providers, road administrators, app developers, traffic managers and even OEM's) to determine whether data from cars can be used to solve specific traffic related problems. With this Talking Traffic can be deployed more effectively, resulting in an increased reduction in congestion. 
In this project, we collaborate in a joint PhD project with HAN University of Applied Science, CWI and Free University Amsterdam.