Joint forces between the chair SES and University of Applied Science Windesheim in Zwolle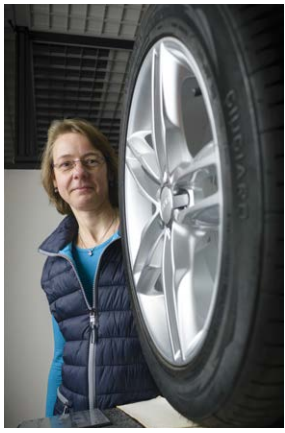 The chair of Sustainable Elastomer Systems (SES) has a close cooperation with the department of plastics technology at the University of Applied Sciences Windesheim in Zwolle. Both research groups joined their forces in order to solve the major problem of disposal of end-of-life tires (ELT's), to save raw materials for the production of new tires by reusing the rubber from ELT's. The expertise of SES is the devulcanization process, wherein the cured form-stable rubber is made processable again; the role of Windesheim is to develop the technology to separate ELT's into their different components to create single variety feedstocks, and to look at the environmental balance of the different process-steps. Windesheim was awarded the Delta price*) for this project, bi-annually awarded to two research groups of Universities of Applied Sciences in the Netherlands. The money involved will be spent for the ELT recycling project, for which grants are applied for as well at SiA RAAK PRO and RVO TSE.      
*) The Delta price can be compared to the yearly NWO Stevin-premie for academic research.