Friday 9 July 2021
9th of July 2021
Last week, Maarten van Eldik from CME won the 2020 best thesis award for his excellent work on the development of a plug-in tool for the BIM-based assessment of the environmental impact of infrastructure projects.
In his research, Maarten discovered that designers and sustainability experts either do not communicate or do so at the very late stages of the design. This makes sustainability-sensitive design very difficult because once the major design decisions are taken, the cost of design modification is high. Therefore, Maarten developed a plug-in tool that can help designers run automated environmental impact assessments at any time during their design and get an impression of the sustainability performance of their design. In this way, they can make adjustments to their design before major design commitments are made.
This tool was very appreciated by the practitioners and Maarten is now busy further developing his tool at Witteveen en Bos. Also, He published the results of his work in the prestigious journal of Automation in Construction (please see the link).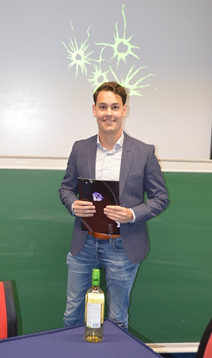 Many congratulations to Maarten and we wish him much more success in his career.
n.b. Maarten was supervised by Farid Vahdatikhaki, Joao Oliveira dos Santos and Hans Voordijk.