STAFF MEMBERS
PHD STUDENTS
CURRENT
Ir. Denise Engelhart
drs. Tjitske Boonstra
FORMER
BACKGROUND
Standing upright seems effortless for healthy adults. However, maintaining an upright stance is a complex process involving the sensory, nervous and motor system. Specifically, it involves the interpretation of different sensory signals of the body, integrating these signals in the brain and sending an appropriate control signal to activate the muscles to stabilize the body. How humans maintain their balance is not completely understood, to date, especially not in case of a balance disorder.
In the control of balance three major sources of sensory information are involved: the vestibular system, the visual system and the proprioceptive system. The quality of balance control relies partly on the ability to adaptively modify the relative weighting of each sensory modality depending on task and the environmental context. Whereas in healthy subjects there is redundant sensory information, in patients the absence or decrease or impaired quality of sensory information often results in reduced balance control and even in an increase of falls. Other factors influencing balance control are the coordination between different body segments (i.e., legs and trunk), asymmetries between the balance contribution of both legs and the ability to make a step.
GOAL
The aim of our research is to gain further insight into human balance control. To this end, we develop models of balance control and perform dedicated experiments taking a system identification approach. Subsequently, we want to improve the diagnosis and treatment of balance disorders by developing methods that are able to identify key factors for balance control for certain pathologies and, as such, to relate neuromuscular disorders (impairments) with balance disorders (disabilities).
TECHNIQUES
The balance control system is a closed-loop system. Therefore, we use mechanical and sensory perturbations to open the loop, to subsequently study the contribution of the different parts, i.e., the sensory, nervous or motor system. To this end, we use and adopt frequency domain Closed-Loop System Identification Techniques (CLSIT). With these CLSIT we aim to validate model assumptions, and estimate model parameters. In previous studies, we developed methods that quantify the contribution of both legs in maintaining balance. This novel method shows asymmetries in balance control in post-stroke patients, in above and below knee amputees, and Parkinson's patients. An example is given below.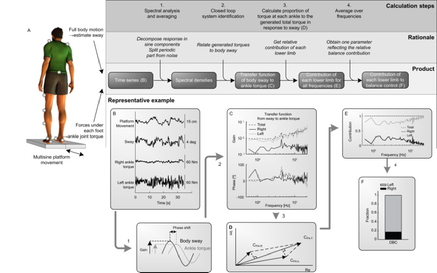 LABORATORY
Our experiments are performed in the Virtual reality Human Performance (VR-lab). This lab is equipped with:
Motion capture (VICON)
Dual Force plates (AMTI)
Force sensors (ATI)
6 degree of freedom motion platform (Motek)
Bilateral Ankle Perturbator (ForceLink)
Double inverted Pendulum Perturbator (ForceLink)
Electromyography (Delsys)
Visual scene perturbator (ForceLink)
Other custom-made devices to perturb human balance
Impression of our human performance virtual reality lab that we use to analyse and assess human balance.
BALROOM PROJECT

The BalRoom project is part of the NeuroSIPE program, which aims to develop diagnostic tools for neurological disorders. All the above described techniques and equipment are integrated in a Balance test Room (BalRoom) to quantify balance deficits and to unravel the underlying pathophysiological mechanisms of falling in elderly people.
The development of the BALROOM takes place in collaboration with universities (University of Twente), hospitals (Leiden University Medical Centre (LUMC), Radboud University Nijmegen Medical Centre (RuNMC)) and companies (Forcelink B.V, Motek Medical, Centre of Human Drug Research (CHDR)). The equipment is developed in modules by the University of Twente and Forcelink B.V. The first module, the Bilateral Ankle Perturbator, can rotate the support surfaces around the ankle axes and measure ankle torques. The response to the rotation gives an indication of the accuracy of proprioception and how information from each leg is used in generating a corrective torque, called sensory reweighting.
The first clinical trial in 60 subjects (healthy young and older subjects, and patients with sensory problems or balance problems) is taking place in the Bronovo Hospital in the Hague in collaboration with the LUMC.
When studying compensation strategies, not only the stabilizing mechanism of the ankle plays a role in balance control, but also the hip contributes especially to fast balance corrections that prevent people from falling. CLSIT techniques are currently extended to include the hip joint. To analyze a multiple input multiple output (MIMO) system, an additional perturbation is needed. Therefore in the second BalRoom module, a new device is currently developed by the University of Twente in collaboration with ForceLink B.V. The device perturbs the human balance externally at hip and shoulder level. First tests of the device in combination with the CLSIT will take place on healthy young adults before testing it on elderly people.
To complete the BalRoom, also the modules for visual scene perturbations and galvanic stimulations will be developed. Furthermore, the test will be extended with a cognitive task and the influence of medication on human balance control will be investigated in collaboration with the CHDR. 
Future studies will focus on the relation between the stability during standing measured in BalRoom and the stability during walking. In this part of the project the RuNMC at Nijmegen will study balance in ecologically valid environments. Motek Medical will collaborate in the development of a virtual environment.
GETTING INVOLVED
Are you a master or bachelor student and would you like to do a research project on human balance control, please send us (d.engelhart@utwente.nl or h.vanderkooij@utwente.nl) your CV and a short motivation. We are seeking for excellent students who want to work on developing models, implementing system identification techniques, implementing and testing new perturbation methods, testing new protocols, performing dedicated experiments regarding balance control and applying these methods to patients.
COLLABORATIONS
dr. J.P.P. van Vugt (Medical Spectrum Twente, Enschede, The Netherlands)
prof. dr. B.R. Bloem (Radboud Medical Centre, Nijmegen, The Netherlands)
dr. A.B. Maier (VU University Medical Centre, Amsterdam, The Netherlands)
dr. C.G.M. Meskers (Leiden University Medical Centre, Leiden, The Netherlands)
dr. R.J. Peterka (Oregon Health and Science University, Portland, USA)
dr. M. Carpenter (The University of British Columbia, Vancouver, Canada)
FUNDING